Tirana, May 28, 2018. Vocational high school students presented today to the citizens of Tirana, their ideas on the cities of the future. Through the exhibition of two miniature models of "Smart Cities", the students of the technical-electrical school "Gjergj Canco", Tirana, and of the vocational high school "26 Marsi", Kavajë, showed their vision for the development of cities through environmentally friendly alternatives .
Students have focused on using the most innovative "Smart City" techniques in their works. The town of the students of the "Gjergj Canco" school contained a street lighting network that operated with motion and twilight sensors. Natural lighting and the passage of pedestrians determined the lighting of the headlights as well as the percentage of their illumination. The students went further, presenting the use of the Wi-Fi network in the event of car accidents. If an accident occurs in the city, the car's GPS system signals the city's traffic control center where to intervene to provide assistance.
The students of the "26 Marsi" school in Kavaja presented their idea for the smart city. The electricity supply of the entire city will be realized through solar panels installed on the roofs of the buildings. The need for transportation will be met with electric cars that have zero emission of fumes into the environment.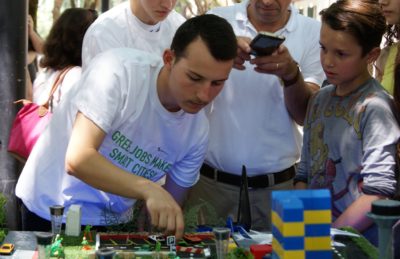 Citizens of Tirana joined this exhibition by expressing interest in the models made by the students. Best practices for meeting electricity needs, for transportation, and making their city energy efficient were at the forefront of conversation among students and citizens. Also, the interest shown by passers-by of different ages on the topics of improving the exciting infrastructure and sustainable development of cities was high.
This exhibition was a demonstration of the ideas that young professionals have about the cities they live in and was preceded by the development of a series of lessons on the UN Sustainable Development Goals, professions and green enterprises. The implementation of their professions in the future with an environmentally friendly approach can create the basis for bringing these models to life in the city where they live.
The Austrian Development Agency (ADA), the operational unit of the Austrian Development Cooperation, supports the SEEDLING program implemented by the Regional Environment Center (REC).
This project is implemented by EcoAlbania and financially supported by REC within the SEEDLING project.