Durrës, May 25, 2018. A special food fair was organized by the students of the "Hysen Çela" Technological High School, Durrës, with the aim of raising awareness about responsible consumption. The "Rescue food" fair turned into a special celebration that also marked the end of the "Encouraging entrepreneurship among high school youth" project with the students of this school.
The students of the "Hospitality-Tourism" branch prepared and exhibited their dishes aiming to promote best practices in which the amount of waste and food waste is reduced. They demonstrated through the preparation of different recipes that the products which are not aesthetically beautiful or are close to their expiration date can be used as a material base for the preparation of dishes, without turning them into waste.
This fair comes after four months of work with the young professionals, during which teaching and demonstration classes were held. Students were informed about the Sustainable Development Goals of the UN, focusing on goal no. 14 "Life under water" and no. 8 "Dignified work and economic growth". Green professions, enterprises with a friendly approach to the environment, as well as their success models were some of the topics addressed.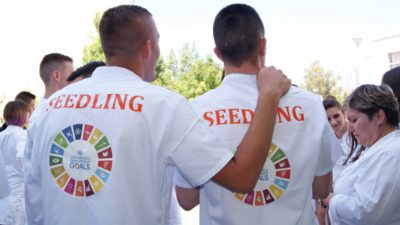 In the opening speech of the activity, the director of the "Hysen Çela" school, Mrs. Blerina Dervishi expressed her positive attitude towards this initiative, as well as towards the crowning of this work of several months with a fair that gives young people the opportunity to show their skills. Mr. Olsi Nika, executive director of EcoAlbania, has called on young people to approach green professions as a good employment opportunity for them and increasing opportunities for sustainable development.
About 250 people attended the food fair. School students, teachers and other guests had the opportunity to taste the dishes prepared by the young chefs. During the fair, the future chefs served the food prepared by them, explained how to prepare the dishes, and shared some of the cooking recipes with those interested.
This activity was aimed at orienting young people towards green professions and enterprises with a friendly approach to the environment. Also, it serves as a good example for existing businesses to adapt these innovative cooking methods while minimizing the amount of food loss and waste.
The Austrian Development Agency (ADA), the operational unit of the Austrian Development Cooperation, supports the SEEDLING program implemented by the Regional Environment Center (REC). This project is implemented by EcoAlbania and financially supported by REC within the SEEDLING project.