The EcoAlbania team in cooperation with the Administration of Protected Areas of the Kukës District joined the Balkans Peace Parks (B3P) project this year to develop educational activities with the children of the Valbona valley and the village of Lëpushë in the Albanian Alps. Environmental education with children has already become a tradition of EcoAlbania, where for the third year in a row, the environmental education team has developed activities with a focus on raising the awareness of young generations about the importance of protecting nature.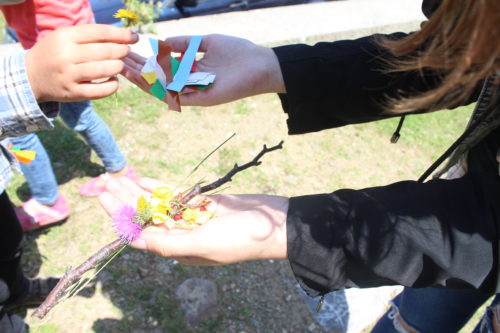 On July 30, 2016 – August 6, 2016, a series of classroom and outdoor activities were organized with the children of the two areas selected this year. For the realization of these activities, four volunteers were engaged who became part of this unforgettable experience for them.
About 40 children divided into three groups depending on the age group participated in the educational program, which was based on two main methods: classroom presentations and outdoor games.
For four consecutive days, presentations on water resources, land, forests and nature conservation were held in the classroom, while on the fifth day the children presented their works through a mini-fair in front of parents and other residents.
The outdoor activities were intended to encourage imagination and critical thinking by listening to the sounds of nature, memorizing the shapes of objects in nature, creating verses about wildlife…etc.