Vjosa as a tourist destination with high potential was the topic that brought Vjosa's friends together at their next meeting. Journalists, tour operators and nature lovers took part in the meeting of friends of Vjosa that was held on November 15, 2018, in Tirana.
Young friends joined the group at this meeting, who brought to attention the importance of protecting the Vjosa valley from the construction of hydroelectric plants and how this valley can be developed without allowing destructive projects for the environment. "By developing natural tourism and empowering local businesses, the community would benefit more than from the construction of hydropower plants, which are not in favor of the future of tourism in the area," said one of the tourist operators present at the meeting. "The case of Nivica is one of the positive models of how rural tourism can be developed in the Vjosa valley by restoring old houses into guest houses for tourists," added another tourist operator participating in the meeting.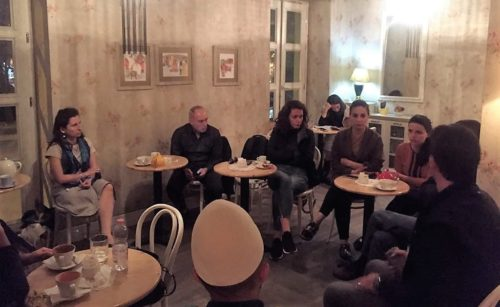 Meanwhile, the journalists present at the meeting brought official data regarding the indirect contribution of the tourism sector to the Gross Domestic Product, which is almost 50% higher compared to the contribution of hydropower. According to them, these data show the importance of the development of tourism in the Vjosa Valley, compared to the construction of dams on this river. "During the drafting of these projects, the number of employees brought by the tourism sector should also be taken into account, which is many times higher if we were to compare it with the development of a hydropower project", said one of the journalists.

The efforts of the group of friends of Vjosa in the campaign to protect the last wild river in Europe will continue supporting the vision of declaring the valley of Vjosa a National Park. The closest initiatives are the presentation of the Pocem and Kalivac HPP issue at the meeting of the Permanent Commission of the Berne Convention and the publication of the results of the scientific study at the conference that will be held on December 6 in Tirana by the group of scientists national and international.