++Environmental organizations appeal against Albania to the Energy Community for the HPPs of Kalivaç and Poçemi++
Tirana, Radofzell, Vienna, February 26, 2019. A complaint against the Albanian government was sent today to the Secretariat of the Energy Community. EcoAlbania, RiverWatch and EuroNatur, three organizations leading the campaign for the protection of the Vjosa River in Albania, have addressed their concern that the procedures for the Kalivaç and Poçem hydropower projects were not carried out in accordance with the Energy Community rules.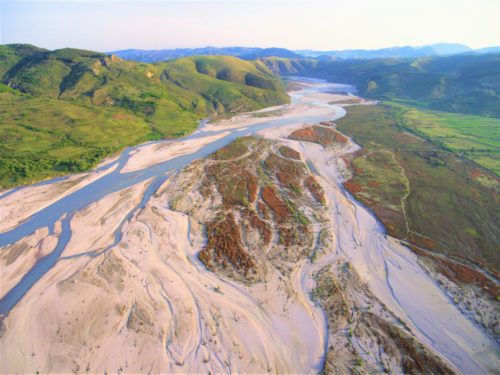 For the Energy Community, this is the first complaint against Albania related to hydropower plants. The complaint addresses violations of the EU Directive on Environmental Impact Assessment (EIA) related to the Kalivaç and Poçem hydro-energy projects. The EIA Directive is an integral part of the Energy Community's regulatory framework. Moreover, the company and the public authorities have not met the criteria of public consultations. The complaint highlights apparent violations of Energy Community rules.
"This is another way we are using in our long fight against hydropower projects on the Vjosa River. We believe that the Albanian government is breaking not only the Albanian law, but also its commitment under the Energy Community with the projects of Kalivaç and Poçem. The projects are not even feasible since the social and environmental costs have not been assessed properly", said Olsi Nika from EcoAlbania.
"We expect the Energy Community to open the case against Albania within the next six months. If this happens, hydropower projects must be stopped," said Ulrich Eichelmann of RiverWatch.
Albanian rivers have been identified as the "Blue Heart of Europe" and as such represent a natural heritage for the entire continent. The Vjosa River in Albania is the "crown" of these rivers. It is the last river in Europe that still flows freely. "The Vjosa river and its tributaries are rare. This river network is not found anywhere else in Europe. Therefore, it should be protected and not destroyed by hydropower plants", said Gabriel Schwaderer, Executive Director of EuroNatur.
Additional information:
Albania has been part of the Energy Community since 2006. EC is an international organization composed of the EU, represented by the European Commission and the countries of South-Eastern Europe. It aims to expand the internal energy market in Southeastern Europe and the Black Sea region. As a member of the Treaty, Albania is obliged to fulfill several requirements in terms of energy policy, including the EIA Directive.