++ EcoAlbania sends suggestions for amendments to the Law "On Concessions and Public Private Partnership" at the relevant Parliamentary Committees ++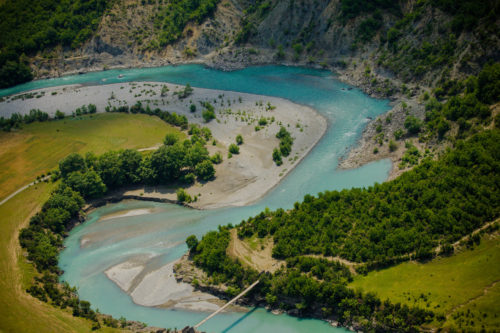 Tirana, 4 February 2019. EcoAlbania has formally submitted the request for amendments to Law no. 125/2013 "On Concessions and Public Private Partnership", sending the voice of several environmental organizations, experts, local government representatives and residents affected by the development of hydro-energy projects.
In the letter addressed to the Parliamentary Committee on Economy and Finance, the Committee on Productive Activities, Trade and Environment, and the Committee on Legal Affairs, Public Administration and Human Rights, EcoAlbania has expressed the concern and urgent need for intervention in the legal framework related to concessions, specifically to the permits of HPPs. Plans for the development of hydro-energy projects show that 540 hydropower plants are planned to be built throughout Albania, a significant part of which are in protected areas (around 61) and areas with high natural potential.
EcoAlbania has undertaken a thorough analysis of the plans, strategies and national legislation of the energy, tourism, environment and water sectors, evaluating their approximation with EU legislation. "Observing and studying the practical implementation of the complex legal framework regulating concessionary procedures in the hydropower sector has resulted in a number of problems in the implementation of these procedures by public authorities. At the root of most of the problems, there are many gaps and conflicts in the actual legal framework that completely regulates the procedures for hydro power concessions", said Olsi Nika, Executive Director of EcoAlbania.
This analysis was concluded with findings and recommendations for concrete changes in Law no. 125/2013 "On concessions and public private partnership" as amended, and other laws that interact in the field of hydro power concessions. Specifically, the document contains proposals for additions and changes to the laws:
Law no. 125/2013 "On concessions and private public partnership", as amended;
Law no.10440, dated 07.07.2011 "On the assessment of the impact on the environment";
Law no. 10 448, dated 14.07.2011 "On environmental permits";
Law no. 111/2012 "On Integrated Management of Water Resources", as amended.
Findings and recommendations for changes have been consulted with local communities, Civil Society Organizations, local institutions and other stakeholders interested in local forums organized by EcoAlbania.
EcoAlbania and the team of experts aim at discussing them in the respective Parliamentary Committees and promoting legal changes in terms of improving the legislation on HPP concessions in Albania.
—-
In accordance with its mission, EcoAlbania is committed to promoting the civil society initiative to improve the legislation on HPP concessions in Albania. This commitment aims to increase active public participation in decision-making regarding sustainable use of natural resources and is implemented within the AKTIV II project with the financial support of LëvizAlbania.