EcoAlbania started the implementation of the project "Encouraging green entrepreneurship among high school youth" within the framework of promoting the United Nations Sustainable Development Goals. Vocational high school students will be informed about CSOs, the existence of "green jobs" and the possibilities of developing their professions while remaining environmentally friendly.
During the month of February, three teaching days took place in three vocational high schools in the district of Tirana and Durrës. Lessons were held with high school students of the Hospitality-Tourism branches at the "Hysen Çela" school, Durrës; Mechanics at "26 Marsi" school, Kavaje; and Information Technology at the "Gjergj Canco" school, Tirana. They were introduced to the 17 United Nations Sustainable Development Goals (SDGs). Among the topics that were discussed with the young professionals were: young people as future entrepreneurs, the creation of new jobs, the concept of "green jobs" and the possibility of their application in Albania. Students had the opportunity to share information and ask questions to clarify their knowledge.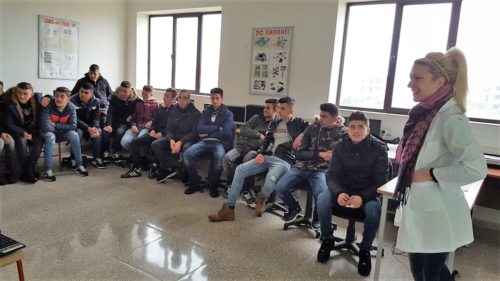 The graduates of the "Gjergj Canco" and "26 Marsi" schools were especially introduced to objective no. 11 "Cities and sustainable communities", as well as with objective no. 8 "Dignified work and economic growth". Building inclusive, safe, resilient and sustainable cities and settlements were at the center of the discussion. Students brought new approaches to creating these cities. The trainer from EcoAlbania explained to them how these approaches can be turned into business ideas that represent innovation, providing employment both for them and for other young people.
An interactive lesson took place near the "Hysen Çela" school. The students got to know objective no. 14 "Life under water", as well as objective no. 8 "Dignified work and economic growth". Conservation and sustainable use of marine resources is seen as an important element to share with them being a community that lives near the coast. It was discussed how fishing, sustainable management of marine ecosystems and the use of seafood for cooking in the tourism sector, with the aim of reducing food losses, can lead to the creation of new jobs by supporting local culture and products. Also, the young professionals showed the innovative methods they use to modify the traditional cuisine and were informed by the trainer about the possibilities of creating a business that implements these innovations.
This is only the first cycle of lessons that will take place within this project. EcoAlbania will continue to work with these young people in order to educate and inform them about the models of "green jobs", the development of a business idea, as well as the creation of models of "green entrepreneurship".
The Austrian Development Agency (ADA), the operational unit of the Austrian Development Cooperation, supports the SEEDLING program implemented by the Regional Environment Center (REC).
This project is implemented by EcoAlbania and financially supported by REC within the SEEDLING project.