Tirana, November 13, 2018. EcoAlbania organized the open meeting on the topic "The importance of conveying environmental information for an active citizen" during which he presented the study "Environmental Information Management in Albania". Attendees, environmental CSOs, journalists, students, representatives of state institutions, etc. were introduced to the analysis of the legal framework and the management of environmental information at the local and national level, based on the information generated by the Report on the State of the Environment of Albania (RGjMSh).
Access to environmental information continues to be problematic due to the lack of updating, clarity of information, transparency and coordination between institutions at the central and local level. The assessment of the situation related to its monitoring and management is necessary in the context of greater involvement and easier distribution to citizens. This was also the reason for conducting such a study by EcoAlbania and REC Albania.
Speaking about the importance and necessity of this study, Mr. Mihallaq Qirjo, director of REC Albania, said that the Ministry of Environment should be made aware of the increase in public participation in environmental decision-making, adding that this cannot be done without access to simple and up-to-date environmental information.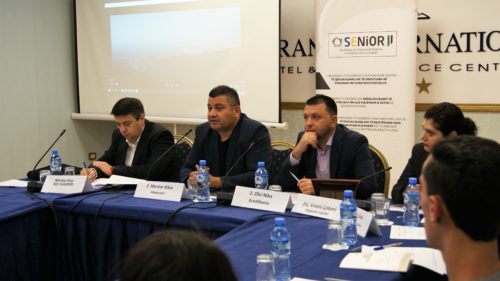 The group of experts engaged in the study, consisting of legal, environmental and communication experts, presented recommendations for central, local institutions and civil society organizations in terms of improving the management of environmental information. Some of the recommendations that were shared with the attendees were:
To unify the methodologies used for monitoring each environmental parameter, with that of the EU and to carry out their continuous review.
To consider the establishment of environmental information systems as a priority, which analyze and process monitoring data, creating "information" that will be used to report to "end users", such as policy makers and the public .
To strengthen inter-institutional cooperation for the sharing of data and environmental information necessary for the RGJM and the contribution of local and private actors in the drafting of the RGJMSh.
In order to convey the information generated by RGjMSh to the public, a proper communication strategy must be drawn up.
The democratization of resources in the monitoring and management of environmental information is very important. For this reason, the establishment of monitoring structures and data collection platforms coming from citizens should be considered.
These recommendations are mainly addressed to the National Environmental Agency to improve the process of monitoring the state of the environment and simplify environmental information for the public. The Ministry of Tourism and Environment as well as the National Environment Agency did not respond to EcoAlbania's invitation to be present at the discussion table regarding the study and its recommendations. However, the organizations engaged in the study will aim to present the study to the KTA.
This meeting was organized within the project "Environmental information for an active citizen" and
is financially supported by the Swedish Embassy through the SENIOR III program implemented by the Regional Environment Center – REC Albania.