++Eda Zari gives voice to Albanian rivers and activists++
Sarajevo, September 30, 2018. Hundreds of people raised their voices in defense of the Balkan rivers at an open concert held in Sarajevo on Sunday, September 30. They sang with well-known singers such as Eda Zari, Rambo Amadeus (Montenegro), Tamara Obrovac (Croatia) and Damir Imamovic (Bosnia-Herzegovina).
Albanian artist Eda Zari lit up the stage with her brilliant voice and messages for nature and free rivers "Tonight we are bringing here the voice of all Albanian artists, the Albanian people and activists who for years have been protesting and fighting against the destruction of rivers like Vjosa and Valbona" she says.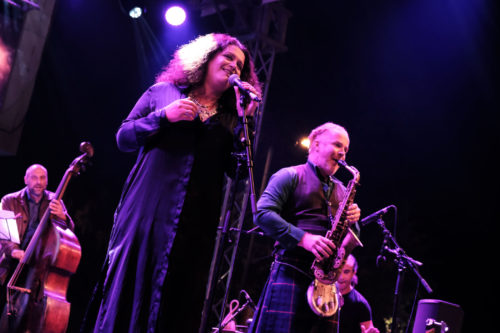 A week ago the artists Elina Duni, Eda Zari, Linda Rukaj, Rhani Krija, Vlashent Sata, Emiljano Dhimo, Shpat Deda, Gert Kapo, Henning Jung, Kleidi Eski, Sokol Çunga, Mikaela Minga, collaborated to make the song and the video "Lum Lumi i Lirë" in support of the cause for the protection of Vjosa and Valbona from the construction of hydropower plants without criteria and for the preservation of these pearls of Albanian nature for future generations.
The concert for the rivers of the Balkans was organized as part of the campaign "Saving the blue heart of Europe" and also marked the closing of the European Rivers Summit held in Sarajevo on September 27-29, 2018, where more than 200 activists participated. scientists and river-lovers from around the world and shared their inspiring experiences in efforts to save rivers in their countries.