By Ermelinda Hoxhaj
A group of citizens from Tropoja are expected to land near the Ministry of Energy today to request a meeting regarding the construction of hydropower plants in the Valbona River Valley. Part of this group will also be the biggest fighter in defense of this park, Chatherine Bhone. The American of Valbona emphasized to "GSH" that she will stay in front of the door of the ministry until they give her an appointment.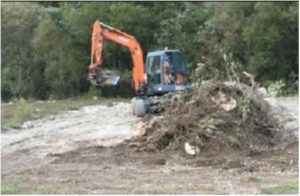 "The situation in Valbona is very bad, bulldozers have entered the park and are digging. We can't wait any longer. On Monday, we will be a group of 5-6 people, community representatives and lawyers, who will request a meeting with representatives of the Ministry of Energy. We have asked them several times for a meeting and answers through official letters, but we have not received any response. So we will go there and stay all day, or two days if necessary, until they give us an answer and set an appointment. The law is being violated here, residents have not been informed about these projects, which directly affect their lives and future. The construction of these hydropower plants was done in secret and we learned about it only in January 2016", American Chatherine Bhone told "GSH".
In addition to the local community and civil society, voices against the construction of HPPs in the Valbona park have also increased within the majority. The head of the National Agency of Protected Areas (AKZM), Zamir Dedaj, in an interview for "GSH" some time ago, stated that if there is political will, the construction of HPPs in Valbona can be stopped. According to him, it is absurd to say that the construction of these hydropower plants will not have an impact on the ecosystem of the park.
You can find the prepared article published on BalkanWeb.com