German television ZDF has published the short 30-minute documentary "Wahnsinn Wasserkraft" (Madness of HPPs). The documentary was shown yesterday on the German channel ZDF, On World Rivers Day, which talks about the mania of HPPs in the rivers of the Balkans, with the Vjosa at its center.
On the occasion of World Rivers Day (September 25), the last wild river in Europe, the Vjosa River, conservation of natural treasures, sustainable economic future for the Balkans. To prevent this from happening, the environmental association EuroNatur in Germany and Riverwatch in Austria, in cooperation with environmental organizations in various countries of the Balkans, are developing the international campaign "Save the blue heart of Europe".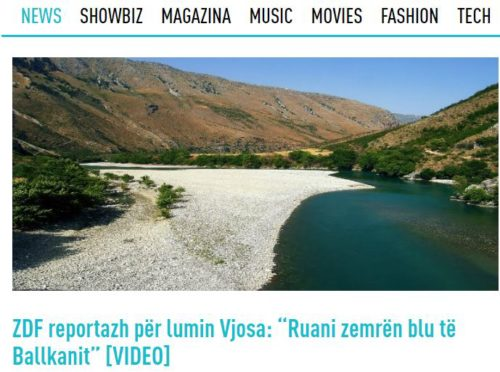 "This campaign focuses on three main areas: the preservation of the Vjosa River in Albania, the Mavrovo National Park in Macedonia and the Sava River that runs through Slovenia, Croatia, Bosnia-Herzegovina and Serbia. We aim to make society and politicians aware of the values of the Balkan rivers and the danger they face from the construction of hydropower dams. We believe that the economic future of the Balkan countries can be more stable by promoting the preservation of natural treasures and their potential for a valuable socio-economic development for future generations," says Ulrich Eichelmann, also the coordinator of this campaign. . Ulrich Eichelman says that the Vjosa offers not only an untouched natural environment, but also rare beauty: "When I visited Albania for the first time and saw the Vjosa, I was stunned, as I didn't think there were any rivers like this left in Europe."
You can find the full article published by InTv.al here.