The award for the Best Feature Film at the 2016 awareness-raising environmental film festival in Albania went to the Slovenian film about the protection of Europe's only wild river, the Vjosa.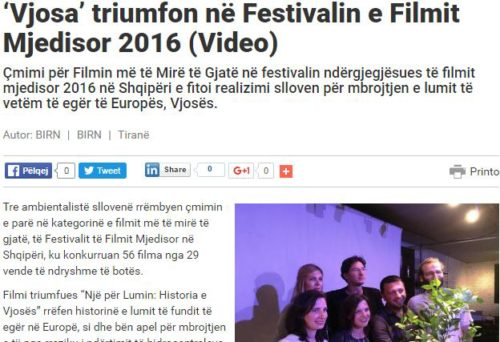 Three Slovenian environmentalists grabbed the first prize in the category of the best long film of the Environmental Film Festival in Albania, where 56 films from 29 different countries of the world competed.
The triumphant film "One for the River: The Story of Vjosa" tells the story of the last wild river in Europe, as well as appeals for its protection from the danger of the construction of hydropower plants, part of the current plans of the Albanian government.
"Vjosa is the artery of the Balkan peninsula," environmentalists argue in the documentary.
The awards were presented on Sunday on World Environment Day and thus concluded the fourth edition of the Environmental Film Festival, which was launched in 2013 to raise public awareness of environmental risks by fusing them with cinema
The winning film:
One For The River: The Vjosa Story from Leeway Collective in Vimeo.
For the full article click on Reportet.al / BIRN
Interview on the Environmental Film Festival in Albania, Festival Director Phillippe Theoú and representative for the winning film "One for the River – History of Vjosa" Olsi Nika.
The purpose of this film is to increase the public's attention and the consciousness of the community but also of the decision-makers to preserve this value, this natural heritage such as the Vjosa, which is also the last free-flowing river in Europe.
This film expresses very clear messages that what we have in Albania must be preserved and passed down from generation to generation as our ancestors have passed it down to us.
Interview prepared by OraNews.tv