The Deputy Minister of Energy and Industry Gëzim Musabelliu, taking into consideration a repeated concern of environmentalists about the ban on the construction of the HPP in the Vjosa river, said that it has been decided that this area should be declared a national park. But he clarified that what has been built so far from the hydraulic works or those that are in the process cannot be erased.
In this activity were discussed the possibilities of Albania to increase the production of electricity with internal hydro sources.
The chronicle prepared by Erblina Mile can be found at OraNews.tv 
Protest against the construction of dams in Vjosa, during the workshop "Development of energy potentials of Albania".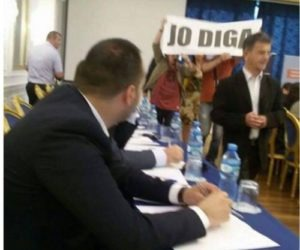 Protesters opposed to the construction of hydroelectric power plants on the Vjosa River entered the hall where the meeting between the officials of the Ministry of Energy and the Greek experts present was being held, and protested with placards against what they described as the destructive project of the only and the last wild river in Europe.
As can be seen from the photos, the two protesters, Eljan Tanini and Andi Tepelena, entered the meeting which took place in the Tirana Hotel with banners in their hands that read "No dams in the summer", a sign to tell the Greek experts that not only them they don't want the dam, but not even the civil society in Albania accepts such a project.
You can find the full article published in Opinion.al