The tour of meetings with the local community of residents of the Vjosa valley is moved to Tepelena. On the first Friday of February 2015, EcoAlbania organized the next informative meeting within the "Save the blue heart of Europe" campaign with residents of Tepelena, Memaliaj and their surroundings.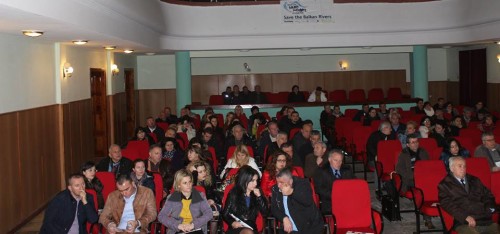 This meeting was supported by the Deputy Prefect of Tepelena and the Mayor of Tepelena. Present at this meeting were the general coordinator of the campaign "To save the blue heart of Europe", Urlich Eichelmann and the President of EcoAlbania, Prof. Dr. Aleko Miho, who presented to the attendees our vision for declaring the Vjosa River a National River Park.
About 130 participants took part in this meeting, including the mayors of the surrounding municipalities, employees of the administration of Tepelena and Memaliaj, local organizations as well as residents and national and international media.
Despite having grown up and living with the river, the residents of the Vjosa valley have not previously had the opportunity to participate in public discussions related to the future of their valley. They learned about the threats to the last wild river in Europe – the construction of 8 hydropower plants. Some of those present took the floor and discussed the issue and expressed their determination to protect their property from the impending destruction.
In this way, this meeting served as an opportunity to be informed about the extraordinary values that this river carries in itself, the benefits that they themselves can have by using it in a sustainable way, as well as increasing civic responsibility.
At the end of the meeting, the residents signed the joint statement where they ask the Prime Minister of the country Mr. Edi Rama and the Albanian Government to stop the hydropower projects and instead declare Vjosa a National Park, according to the international standards of the IUCN.
By Earta Nuna/ EcoAlbania