Chronicle, Top Channel
The protection of the river Vjosë was in the center of attention in a meeting held in the city of Tepelena.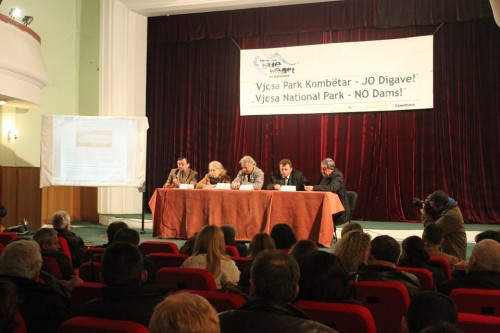 Under the logo "Campaign for the blue heart", EcoAlbania organized the next meeting with the community of the Vjosa valley. The aim of this meeting was to sensitize the residents to protect one of the precious assets of the area, such as the Vjosa, a river so far without harmful interventions affecting its ecosystem.
The reason for this meeting was the ever-increasing trend of using the waters of this river for the construction of hydropower plants. 8 licenses have been issued to use the flow of this river for the production of electricity.
This tendency has unfolded significantly in the Balkans, but it is more pronounced in Albania. There are 550 HPPs that are planned to be built in the Balkans, of which 350 in Albania, some of which have been built and some others are under construction, while a significant part has not yet started as an investment.
For Ulrich Eichelmann, a researcher with 25 years of experience in river protection, the Vjosa is the only wild river in Europe that is untouched and flows naturally, therefore it is important not only for biodiversity, but also for the economic future of the area.
At the end of this meeting, a petition was signed addressed to Prime Minister Rama and the Albanian government to stop hydropower projects and declare Vjosa a National Park.