Albania, impressive and promising!
On the last day of the activity organized in the Soča-Tolmin river valley, Slovenia, on August 24-30, 2014, we tried to present the situation of the rivers in our country as well as the opportunities that may be of interest to work in regarding the conservation of natural values. Almost unfamiliar with Albania, the audience was amazed by the presentation of these incomparable values. During the presentation, the hydrographic network of our country was presented in a concise way, where the intact rivers of the Alps were considered to be representative, which, thanks to their hydro-morphological and physico-chemical parameters, guarantee a great potential for housing healthy populations. of wild trout.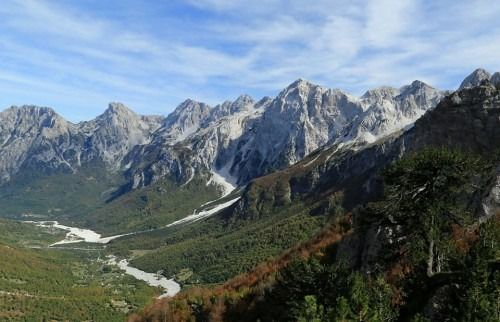 On the other hand, the economic situation in Albania poses a serious threat to its natural heritage, especially in these remote areas. In this aspect, the plans for the construction of a series of dams for hydro-energetic purposes should also be taken into consideration, which constitute a point of special interest in the approach to the conservation of these natural ecosystems of extraordinary value.
In addition to the impressions given, Tolmin has also been a source of inspiration for us. The implementation of sport fishing practices through the "Catch & Release" method in the Soča River and its tributaries is the method that generates a significant and sustainable source of income for the local community. This may be the most suitable way to create a favorable relationship between nature and people in our country. After discussions, guided by the kindness to preserve nature but also by the inspiration of the concrete initiative undertaken in Slovenia and of course by the leitmotif "Why not?", we decided that this initiative should also be undertaken in Albania by CTCF, CT-Albania, and our partners.
Meanwhile, we have determined as the starting point of the project, the area of the Albanian Alps – Bjeshket e Nemuna, which lie in northern Albania, Montenegro and eastern Kosovo. The Valbona River in Albania is the largest and perhaps with the highest potential in terms of biodiversity and biomass in the Albanian Alps. Almost all of its watershed lies within the borders of Valbona National Park. We already have good and stable contacts in the region, where some of them have also undertaken initiatives for the development of eco-tourism by creating the basic infrastructure. Moreover, Valbona's trout enjoys a reputation, not only in the region, but also further afield. Although its population has been drastically reduced by illegal hunting in recent years, the potential of this habitat is quite high, which constitutes a great impetus to undertake some initiatives for successful restoration interventions. Further increasing the reputation of this trout and especially its preservation will help in further profiling this species as a means and goal to improve the economic and social situation of the local community. We are fully confident that this initiative will be welcomed by the local communities of the Valbona valley.
By: Rene Beaumont/ CTCF & Olsi Nika/ EcoAlbania