Young people from Kosovo, Montenegro and Albania become part of the Cross-Border Summer School in the "Bjeshket e Namuna" National Park
The cross-border summer school, part of the environmental education program with young people, took place this summer in Rugova on July 18-23, 2018 as a collaboration between EcoAlbania in Albania, the Balkans Peace Project (B3P) based in the United Kingdom, the organization ERA group in Kosovo and Green Home in Montenegro.
About 20 participants from Kosovo, Montenegro and Albania took part in this 6-day youth exchange. The program took place at the Education Center for Sustainable Development of the ERA organization in Mount Hajla, Rugovë. Located at an altitude of 2000 m, the young people had the opportunity to experience the beauty of the National Park "Bjeshket e Namuna" while understanding the importance of preserving nature in its wild state.
.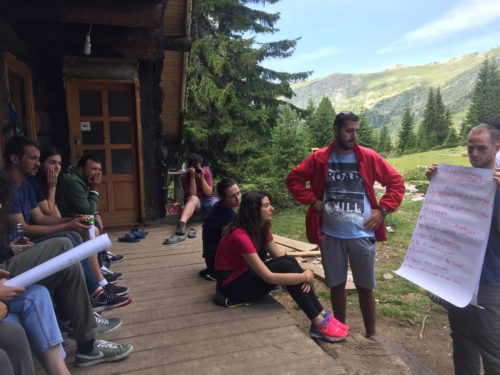 Groups of young people from different countries became part of discussions on "hot environmental" topics and practical demonstrations of pro-environmental practices.
Of particular importance was the exchange of information and experiences on the most important natural areas in their countries; the problems and threats that threaten these areas, as well as the work undertaken for their protection.
Among the most interesting experiences that the young people shared together during this program was the ascent on foot to the highest point of Mount Hajla, at 2403 m altitude. From this point, on one side they had the opportunity to see the village of Rozhajë in Montenegro, on the other side the mountains of Peja in Kosovo, and even, somewhere further, the top of Mount Jezercë in Albania.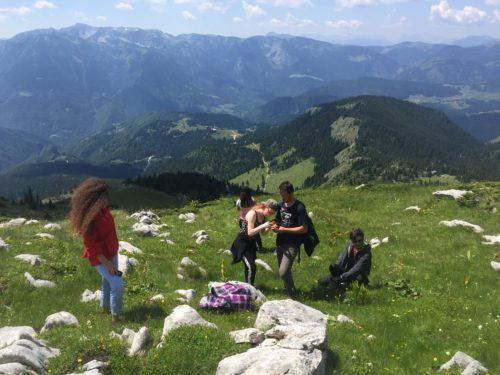 An important part of the summer program was enabling them to adapt to the outdoor environment. They were introduced to the basics of preparing a camping bag, the materials needed during a stay in the field, how to set up a camping tent, selecting a suitable place to place it, keeping the surrounding environment clean, as well as orientation in the field by only used a map and a compass.
Through this program, among others, the young participants created friendships and new contacts which will serve them to continue the work for the protection and promotion of the cross-border area Bjeshket e Namuna/Prokletije/Alpet e Albania – the area that forms the Park Balkan Peace Park.