++No dam in Vjosa, save the last wild river in Europe was the appeal of the protesters.++
Press release from EcoAlbania and Balkan River Defence
Tirana on 10.09.2018. Located behind a symbolic dam with kayaks, environmental activists, citizens and kayakers of the Balkan rivers have protested against the government's decision to build the Kalivači hydropower plant on the Vjosa River and have demanded the declaration of the last wild river in the National Park. Europe. Then they marched towards the dam, "demolishing" it.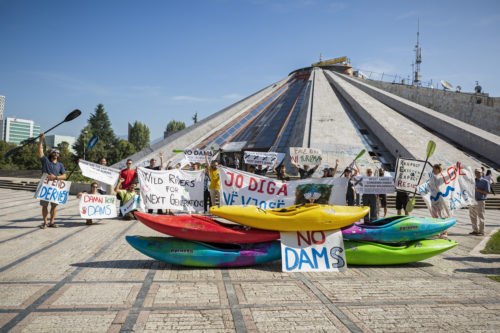 In June 2018, the Albanian Government signed the concession contract for the construction of the Kalivac hydropower plant, giving the right to the Temporary Union of the Companies "Ayen Enerji" and "Fusha" to build the Kalivac hydropower plant. "We are determined to strongly oppose this project, for the good of nature and the communities that live along the river", said Olsi Nika from EcoAlbania. This is only 1 of the 38 HPPs planned in the Vjosa valley "Currently, other concessions continue to be granted rapidly in the branches of Vjosa, with the last one in Shushicë and Bënçë, where residents have not been part of public consultations" he added.
The resistance for the protection of the Blue Heart of Europe is also supported by the activists of the Balkan Rivers Tour who have returned to Vjosa. The third tour started where the first one ended three years ago: in Vjosa. "We will travel through the Balkans for 31 days to show respect and support to the communities and organizations that are bravely protecting their rivers. These rivers are real pearls and it is inspiring to see how people from all over the world are joining forces and "breaking" the borders between countries for a common goal: protecting the last pieces of wild Europe," said Rok Rozman, biologist and the Olympic champion from Slovenia.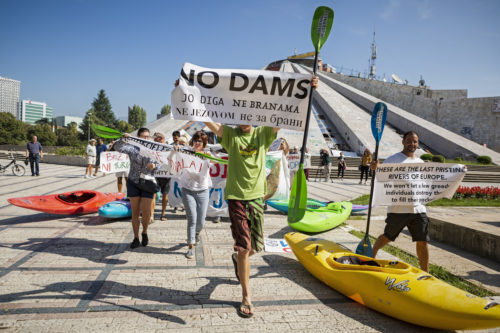 The Balkan Rivers Tour (BRT) started as a crazy idea and turned into the largest direct river protection action in Europe. When former Olympic athlete, kayaker and biologist Rok Rozman started the tour in 2016, his goal was simple: to have fun kayaking the rivers of the Balkans and expose the devastation that hydropower is causing in the region. After extensive international media coverage and protests in the Balkans during the first tour, BRT has returned to an annual kayaking and protest tour where everyone is welcome to join to travel and paddle in the Balkans, discovering the fascinating wild rivers and nature untouched wilderness of Albania, Macedonia, Montenegro, Bosnia-Herzegovina, Croatia and Slovenia. Using whitewater kayaks as a tool to shine a spotlight on little-known rivers being destroyed by dams big and small, BRT gets the attention of decision-makers, then passes the megaphone to local residents, who demand that the rivers theirs to remain wild, protected and free.