Don't touch my Vjosa! The Wild Jewel of Europe.
Awareness concert for the protection of the river Vjosa
Elina Duni | Eda Zari
Gent Rushi|Rob Luft| Vlashent Sata Marsela Çibukaj|Linda Rukaj|Charles Lamouroux|Ermal Rodi| Florian Garcin|Emiljan Dhimo| Lunzheria Polyphonic Group|Bênca Group| Blerat & Besfort Këpuska| Dj. ODA
The artists return again, starting after a year from the protest concerts "Don't touch Valbona", and "No, to the import of waste in Albania", in the Capital Square, near the National Museum on October 18, in defense of the Vjosa River.
We are aware! Art is not the savior of the world, nor can it necessarily ameliorate the sins of decision-makers against society, the earth, nature, water or any precarious life situation! Art, forgives only the peaceful voice, to sensitize, to make aware of the irreparable collective consequences, for which everyone must fight, at the right moment and time.
Respect the boundaries of nature, as if they were your boundaries!
Consideration and respect for nature is the basis of a decent life, in a decent society.
We gather here, and beyond the 1001 problems that society and our country have, when we come to nature, the rivers, we say: How will we answer the literary question of the metaphorical song "Do those springs have water"?
"Volunteers for a green land and free rivers", this is what we need today!
October 18, 2017 / Time: 19.00 /
In Tirana – "Skënderbej Square" in front of National Museum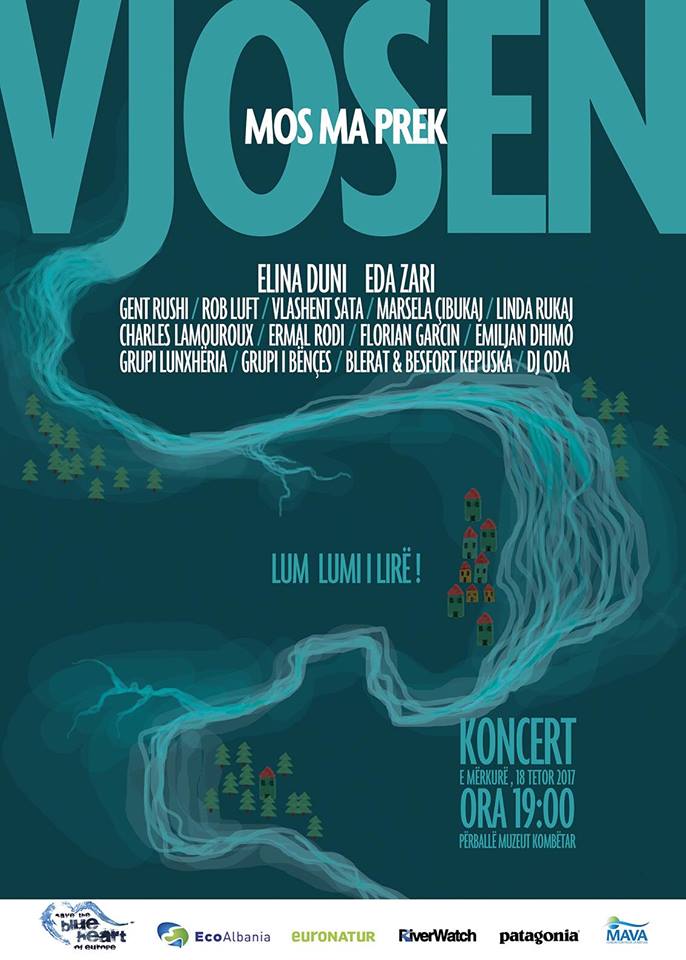 We thank Briken Rrozhani for the poster!
—
---
This concert comes in support of the Campaign "Saving the blue heart of Europe", which is implemented by EcoAlbania, Riverwatch and EuroNatur.
Sponsor of the event: PATAGONIA and MAVA