EcoAlbania is continuing the implementation of the project "Encouraging green entrepreneurship among high school youth" within the framework of promoting the United Nations Sustainable Development Goals. Students of vocational high schools of hotel-tourism "Hysen Çela", Durrës, mechanics "26 Marsi", Kavajë and information technology "Gjergj Canco", Tirana have welcomed the development of the second lesson during the month of March.
Among the topics that were discussed with the young professionals were: the paths that should be followed to establish a "green enterprise", the creation of a social business plan, project ideas on the "Smart City" in accordance with the Development Objectives UN Sustainable Development Goals.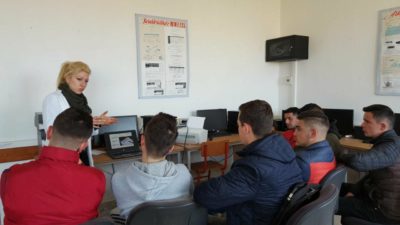 Graduates of "Gjergj Canco" and "26 Marsi" schools discussed the possibilities of implementing their professions with access to "green jobs", as well as the needs and difficulties that they as young entrepreneurs may encounter. They were trained in writing a business plan, responding to market needs, effective management, marketing and competition. Also, the "Groups of young entrepreneurs" of the schools were created, with the students, who presented their project-ideas related to the creation of the "Smart City", which will be implemented in two miniature models. Eco Albania will encourage the groups of young entrepreneurs to be active even after the end of the project by initiating a possible cooperation for the future in the field of business.
At the "Hysen Çela" school, students were informed about the difference between ordinary business and social business, focusing on the possibilities of creating a social business in their profession with an environmentally friendly approach. With focus on OZhQ no. 12, Responsible consumption and production, future chefs demonstrated the preparation of several dishes with maximum utilization and no loss of raw materials.
This is the second cycle of lessons developed within this project. EcoAlbania will continue with the analysis of successful businesses in the field of "green professions" and their adaptation to the Albanian market, as a starting point for the creation of "green entrepreneurship" models.
The Austrian Development Agency (ADA), the operational unit of the Austrian Development Cooperation, supports the SEEDLING program implemented by the Regional Environment Center (REC).
This project is implemented by EcoAlbania and financially supported by REC within the SEEDLING project.