++The Permanent Commission recommends the immediate stoppage of the Pocem and Kalivac hydropower plants on the Vjosa River++ Albania will be required to do the necessary strategic environmental planning and collect the environmental data that is still missing.++
Tirana, 29.11.2018. The Permanent Commission of the Berne Convention has opened the case for the Pocem and Kalivac hydroelectric power plant in Vjosa, asking the Albanian government to immediately suspend the Pocem and Kalivaci hydroelectric power plant, as their implementation would go against the principles of the Berne Convention – until to make the necessary strategic planning and the missing environmental assessments. At the 38th meeting of the Permanent Commission, held on November 27-30, 2018 in Strasbourg, Vjosa's case was represented by EcoAlbania, in the capacity of the complaining organization which filed the complaint with the Berne Convention in 2016.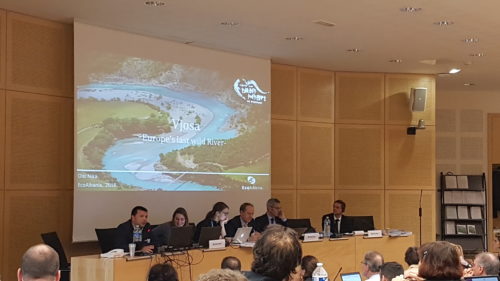 "Vjosa is a unique river system of European importance. This was highlighted once again today, where the majority of member states supported our request to open the case and paid special attention to its protection! With this decision, we think that the Vjosa river issue is going to another level! It is now time for us and the Berne Convention to carefully follow all procedures related to the development of hydropower plants in Vjosa and the steps that the Albanian government will take to fulfill the recommendations", said Olsi Nika from EcoAlbania.
The governing body of the European Treaty on Wild Life has expressed its concern for the emergency danger that threatens the unique ecosystem of the Vjosa River due to the planned hydro-energy projects, especially in the central part where 2 hydroelectric plants are planned (Poçemi and Kalivaçi), emphasizing the variety of living things that live in the river or in the areas where the HPPs are planned to be built, where there are many endangered species among them.
Meanwhile, more scientific data will be presented on December 6 in Tirana during a workshop organized by a team of scientists from Albania and Austria, in cooperation with the Ministry of Tourism and Environment, data which have served as a basis for the scientific argumentation of complaint filed with the Berne Convention.