By Ivana Dervishi / BIRN
A group of sportsmen, environmental activists and political figures from the country and Europe joined forces to try to convince the Albanian government to withdraw from the hydroelectric plants on the Vjosë river and declare it a national park.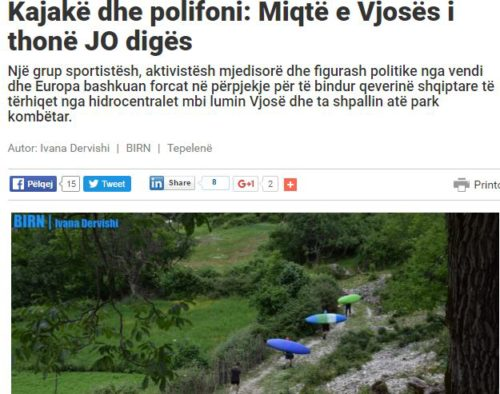 The Slovenian athlete, Rok Rozman enthusiastically throws the "floating petition" – a kayak filled with signatures against the construction of dams in the Balkan rivers – and descends towards the stone bed of the Benca river, a branch of the Vjosa near Tepelena.
After six months of efforts, in cooperation with the EcoAlbania organization in Albania, Rozman managed to gather together about 150 sportsmen and environmental activists to row as part of the great tour to protect the rivers of the Balkans, which started on April 16 from Sava of Slovenia.
A witness to the problems that hydropower plants have caused in his country, Rozman does not understand how Albania is leading to the destruction of a natural wonder like Vjosa.
"Albanians should stand up and ask the government to protect the interests of the locals, not the investors who take advantage and leave," he told BIRN.
The unusual group of sportsmen loaded with kayaks attracts the attention of the residents of Bënçë village. Rakip Caka, 74 years old, and Medih Spaho, 86 years old, watch from afar with curiosity to see how foreigners will manage to drive along Vjosa on this overcast day in May. However, the elderly are momentarily caught in the same trap of attention.
Some American activists surround the elderly and ask them what they think about the Benca HPP. In the face of their insistence, Caka and Spaho are divided.
"If the river will not be damaged, we have no objection to our area affecting the growth of the Albanian economy," Rakip Caka told BIRN. "Even the residents would be given a helping hand by the promise they made to us for free energy with the construction of the HPP," he added.
"The Vjosa is not only the only wild river in Europe, but definitely the most beautiful river I have seen so far. And believe me, I have seen many rivers in my life," says one of the activists.
You can find the full article published by Reportet.al
A protest in defense of the Vjosa river was held in Qesarat of Tepelena. Among the protesters, environmentalists, artists and journalists were also MPs. They were also joined by the vice-president of the European Parliament, Ulrike Lunaçek.
The protest gathered over 200 people. Socialist MP Arta Dade joined them. With the slogan, "Vjosa, no dam", the protesters asked Prime Minister Rama to stop the construction of hydropower plants on this river.
Chronicle prepared by Top Channel