14.07.2016, Poçem, Mallakastër. Residents of the Vjosa valley, mainly from Kuta and Mallakastra, protested today on the Levan-Tepelen national road near the Pocem village against the construction of the Pocem hydropower plant on the Vjosa river. This is not the first protest that they have organized where, with the support of national and international environmental organizations, they have opposed the construction of this hydropower plant from the beginning and have asked the Albanian government to declare Vjosa a National Park and not to allow the construction of any HPP in the whole valley.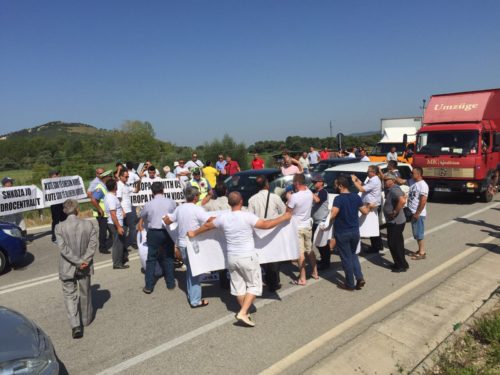 The next protest was prompted by the recent developments on the Pocem bridge, where the Turkish company, which won the concession for the construction of the Pocem hydropower plant on the Vjosa river, has started work, marking the area where the dam will be built and starting field studies. But the residents did not allow it to continue, forcing the company's experts to leave the place where the dam is planned to be built. They were not informed in advance about the project and did not become part of the decision-making process. Faced with a fact, they have gathered today, more in number and united to ask the government to turn its eyes to those who have connected their lives with the river and see in it another development potential.
The fertile lands of the Vjosa valley provide them with the income to ensure their livelihood and the river itself supplies the villages with drinking and irrigation water, moreover it ensures the development of fishing and tourism in this rich and dynamic part of it. Many tourists would travel from faraway places just to see and experience the feeling of enjoying the scenery of a natural river – the last wild river in Europe.
While the construction of this hydropower plant with a 25 m high dam will flood the villages of Kutë, Çorrush, Anëbreg, Shkozë, Sevaster, as well as many other villages and will cause numerous social and environmental problems. It will also destroy the lives of the inhabitants by flooding thousands of hectares of farmland, pastures, olive groves, etc. EcoAlbania, in the wake of efforts to raise the awareness of the local community to become part of the decision-making process, has encouraged residents to react. Residents, supported by the local government, demand that the right to information and participation in decision-making be respected. The local community expressed their demands through a petition addressed to the Albanian Government.
About 2,000 residents directly endangered by this dam have signed a petition addressed to Prime Minister Edi Rama and the Albanian Government to stop the Pocem hydropower plant project and the flooding of the Kuta area and all the endangered villages. Stop all hydro-energy projects and declare Vjosa a National Park, according to European standards.
EcoAlbania is implementing the ACTIVE project, which is carried out within the LëvizAlbania program with the support of the Swiss Embassy in Albania and aims to increase the active participation of the public in decision-making, for the sustainable use of resources