Albania… is probably the only country in Europe where no brown trout from Atlantic waters has been introduced by human hands. The genetic recombination of the trout population is large and includes species such as: S. marmoratus, S. ohridanus, S. Letnica – three to four subspecies or forms, S. Trutta which live in streams and lakes, S. farioides, S. peristericus, S. Montenegrinus… Unfortunately, these jewels of evolution are very endangered species in Albania, due to constant disturbance throughout the year. However, they can still be found in remote locations, many of which are quite difficult to visit.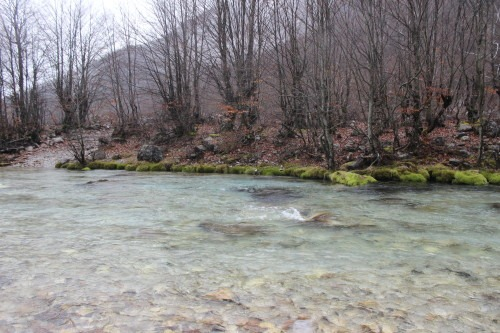 Key questions needing answers: Which trout is where? And what species are we dealing with in the Valbona basin?
Scientific knowledge is the basis to better understand the current situation in the project area and to work for the sustainable conservation of trout. In a previous study, carried out in 2005, it was found that the trout in Valbona is genetically heterogeneous. It is not known if they are genetically related to the system, nor if they are native or introduced. While in Macedonia and southern Serbia, many displacements have been observed between the Adriatic and Aegean rivers.
As there is great diversity of trout in this region, it is important to define the evolutionary and management unit. Therefore, it has been suggested to repeat the study and extend it to other points (in the Valbona catchment and in the neighboring river basins), which potentially hold indigenous trout. At the same time, its density can also be measured. It is believed that such 10-year studies are a prerequisite for the protection of trout and habitats. Based on the results achieved in this phase, other steps will be considered.
Partners in this project are the Fund for the Protection of Continental Trout, together with the organization EcoAlbania.
Alain Crivelli — Research Director at Tour du Valat, Center for the Conservation of Mediterranean Wetlands (France). Research Coordinator
Aleš Snoj– Scientific Researcher, University of Ljubljana (Slovenia). Balkan Trout Restoration Group. Geneticist.
By: Rene Boumont/ CTCF & Losi Nika/ EcoAlbania
For more information:
www.continentaltrout.com | Continental Trout-Albania
Olsi Nika – E-mail: [email protected] | Tel.: +355 69 29 44 757
René Beaumont – E-mail: [email protected]