The court session planned for the case of the hydropower plant of Pocem in Vjosa took place yesterday, April 13, 2017, in the Administrative Court even without the presence of the Ministry of Environment and the National Environment Agency. Representatives of the Ministry of Energy and the Company were present at this session where they defended the parties they represented. During the session, there were moments of debate in the presentation of arguments. The plaintiffs raised the claim before the court that the entire procedure followed for granting the concession for Pocem HPP was done in violation of the legal framework.
In particular, the plaintiffs brought the facts that the procedure of consultation with the community was not respected and therefore they requested the absolute invalidity of the concession contract.
Also, the EIA report presented by the company as part of the procedure is a document that does not meet the necessary standards in terms of environmental impact assessment. For this reason, the plaintiff asked the court to call as witnesses representatives of the company GR Albania, who prepared the EIA report, and some international and national scientists, who would testify about the environmental impacts that the construction of this hydropower plant would have in Vjosa river.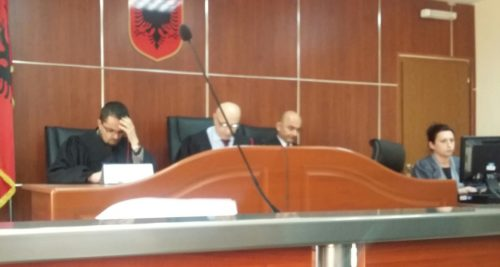 The requests of the plaintiffs to call as witnesses the scientists, representatives of the company GR Albania, as well as the participants in the public hearing organized on February 28, 2015 in Fier by the Turkish company Cinar San were not accepted by the judges for procedural issues. The decision on the claims raised in the lawsuit is expected to be given at the next session on April 20, 2017, at 3:00 p.m.
The judicial process, initiated by national and international environmental organizations as well as 38 residents affected by the construction of the Pocem hydropower plant, was opened on December 2, 2016, seeking the absolute invalidity of the concession contract concluded between the Ministry of Energy and Kovlu Energy – the association of Cinar companies. San and Ayen Energy.
Additional information:
Vjosa is the last wild river in Europe. It flows untouched through deep gorges, marshes and islands for about 270 km from the Pindi Mountains to the Adriatic Sea. The Albanian government and Prime Minister Edi Rama has given the green light to the Turkish company for the construction of the Pocem hydropower plant, which is planned to be built in the most ecologically rich part of the Vjosa river.
The "Save the Blue Heart of Europe" campaign aims to protect the rivers with the greatest natural values in the Balkan peninsula. The campaign is coordinated by the international NGOs Riverwatch and EuroNatur in cooperation with partner organizations in the Balkan countries, such as EcoAlbania in Albania.
Contacts:
Olsi Nika | EcoAlbania | e-mail: [email protected]| Phone: +355 69 29 41 575
Ulrich Eichelmann | RiverWatch | e-mail: [email protected]
Vladimir Meçi | Lawyer | e-mail: [email protected]| Phone: +355 69 60 12 800