An article by Prof. Dr. Aleko Miho
This article stems from the concern of European and local environmentalists about hydropower threats to the rivers of the Balkans, including Albania, where the Vjosë river has special attention.
In the entire Balkan region, there are over 34,000 kilometers of river courses, where about 3,100 km belong to Albania; about 1/3 of them is in an almost natural state, almost untouched, which in countries like Albania goes up to 70%. For this reason, the rivers of the Balkans constitute 'hotspots' of biodiversity, of vital importance not only for each respective country in the region, but for the whole of Europe. The rivers of the Balkans harbour approximately 30% of the threatened fish species and over 50% of the threatened freshwater molluscs species of Europe. About 75% of these fish species and 70% of molluscs species are very sensitive, among other things, to the construction of dams and exploitation for hydropower, which has spread like an epidemic in the last ten years throughout the Balkans.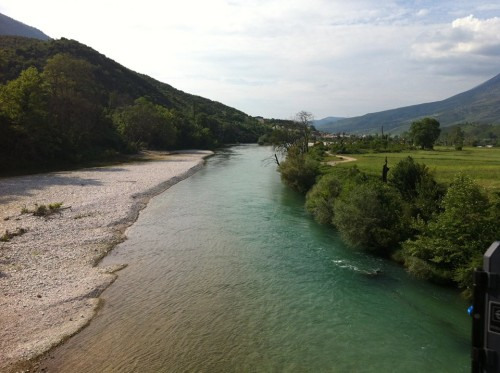 The information is that over 2000 new dams for HPP are planned for construction in the Balkans; about 90% of them threaten to the point of destruction the ecological values of these river flows; over 600 of them are planned within National Parks and other protected areas, such as in Vjosa, Lure or Shebenik (in Albania), in Mavrova National Park (Macedonia), or along the Sava River (in Croatia and Slovenia). It is these facts that have attracted the attention and increased the concern of environmental specialists at the local, national and international level; there was also interest in the means of information, both written and visual, within the country and abroad. Thanks to this pressure, the petition organized in the framework of the Blue Heart initiative (with over 100 thousand signatures), there are fresh data that the European Bank for Reconstruction and Development has blocked funds for the construction of two HPPs in the Mavrovo National Park ( Macedonia).
From the studies done both by WWF (2014) and EURONATUR & RIVERWATCH (2013), the Vjosë river is singled out among the Albanian rivers. Vjosa is among the largest in Albania, with a length of 272 km and a basin area of 6700 km2, where 4365 km2 belong to Albania and the remaining part to Greece. The average annual flow is 195 m3/s, which varies from 33 m3/s to 237.6 m3/s, where 84% of the flow flows during the wet period (winter-spring). The river originates in the Pindos mountains in Greece; within the Albanian territory, it also collects water from the mountains of Albania, crosses several districts (Përmet, Tepelënë, Gjirokastër, Fier and Vlorë) and ends in the Adriatic Sea near the Narta lagoon, Vlorë. The main branches are Sarandoporo (Greece), Drino and Shushica (Albania), but many other smaller branches also join it.
You can read the full article published in the Shekulli newspaper here