On March 21, 2018, the next meeting of the Friends of Vjosa was organized, a tradition where the participants come together to talk about the current situation of the river and new ideas in defense of the 'Vjosa without dams' cause. As in every meeting, this time also new friends joined who want to know more about the Vjosa and the problems of other rivers of Albania.
The conversation was attended by journalists, artists, lawyers, biologists, activists and representatives of environmental organizations as well as nature lovers who are united by the desire to see Vjosa, the last wild river in Europe, free from hydropower dams.
The meeting discussed the latest developments in the case of Vjosa. Meanwhile, a special focus was taken by the arrival of a group of researchers from the BOKU University of Vienna, who in collaboration with the University of Tirana started the Study of River Sediments. From the preliminary data of the study, it is found that the dams in Vjosa bring losses in 3 main directions: for the biodiversity of the river, for the tourist development of the area as well as for the production of electricity, due to the large amount of river sediments.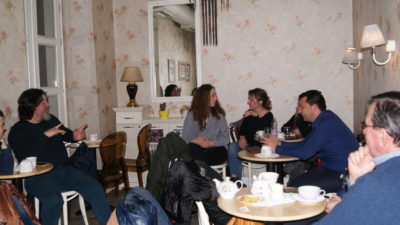 Meanwhile, the awareness of citizens and different communities in defense of Vjosa is increasing. Recently, the large sports clothing company Patagonia has launched its awareness campaign in defense of the "Blue Heart of Europe".
Among the new ideas that were thrown within the activism for the Protection of Vjosa were:
The inclusion of the issue of Vjosa in artistic organizations, such as setting up a painting exhibition, etc.
Intensification of lobbying and its extension to groups of hydropower plant builders, through the organization of round tables and meetings with them, in defense of Vjosa.
Further increase in media coverage of the issue.
Further strengthening of communication with international institutions such as international conventions for the protection of the environment, to which Albania adheres, in the framework of continuous reporting on the Vjosa issue with the aim of stopping hydropower projects in this river.
The meetings of Vjosa's friends are periodic meetings that will continue to take place in the coming months, hoping that this network will expand even more. To be part of the next meetings, you can contact us at: [email protected].