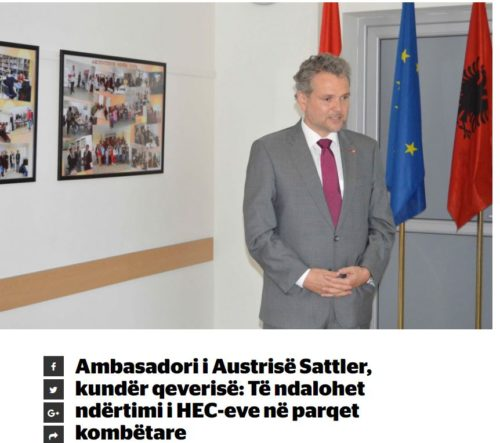 The Ambassador of Austria in Tirana, Johann Sattler, today asked the Albanian government not to interfere in the national parks and to block the plans for the construction of HPPs in these areas. He said that the hydropower plants that will be built in the national parks will have a negative impact on tourism.
"For the European citizen who seeks purity and nature, HPPs are wrong interventions", he said during the speech held at the table for the development of tourism in the country organized by the "Honorary Consuls" Association.
Statteri emphasized that the construction of HPPs would not only damage the valley of Valbona, but also the image of Albania as a tourist destination in Europe.
The ambassador is not the only one who has spoken out against the construction of HPPs, earlier the European Parliament (EP) also asked the Albanian government to stop the construction of hydropower plants in protected areas, especially in national parks.
Also, experts from European foundations for the protection of nature have stated that these hydropower plants are illegal.
But despite protests and appeals from international organizations and institutions, the government has not withdrawn from the decision to build hydropower plants in the National Parks of Vjosa and Valbona, under the argument that the damage in the Arbitration will be great.
You can find the article published by Syri.net here.