Today, the first court session for the Poçem hydropower plant takes place at the Administrative Court of First Instance, Tirana.
In December 2016, the organizations for the protection of the environment EcoAlbania, RiverWatch and EuroNatur, as well as 38 residents affected by the Pocem hydropower plant, opened the court process in the Administrative Court against the construction of the Pocem HPP in Vjosa.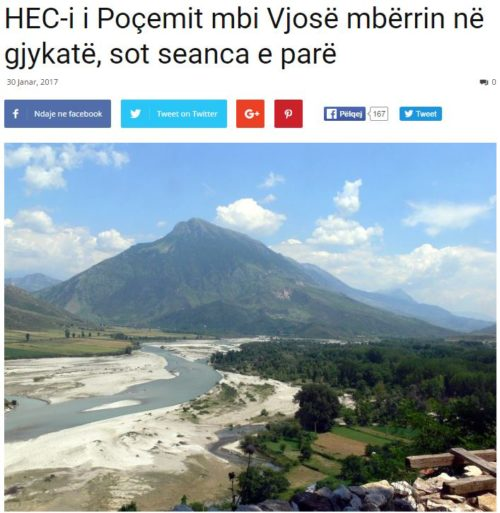 After reviewing the lawsuit, the court scheduled the first trial session for this case. The plaintiffs demand the suspension of any decision or promise for this hydropower plant, which is planned to be built by the merger of the two Turkish companies that won the concession.
Some of the reasons for this lawsuit are as follows:
– The Environmental Impact Assessment (EIA) accepted by the relevant institutions is completely inappropriate, where mor-e than 60% of the EIA is plagiarized, copied from other projects, while the flora and fauna assessments are missing.
– Residents of the villages of Kutë, Çorrush, Sevaster, Shkozë, Golimbas, Mazhar, etc., who are affected by the Pocem HPP project, have not been informed. In the village of Kuta alone, most of the agricultural lands and olive groves will be flooded by the 2,400-hectare HPP reservoir, and 90 people will be forced to move. Although none of the affected residents were notified, a public consultation on this project was held in the city of Fier where no participant was a resident of the affected areas.
– In the last Progress Report of the European Commission for Albania, the criticisms about the weak level of the EIA reports were clear.
– This lawsuit is necessary not only for the future of Vjosa and its inhabitants, but also for the protection of nature and the establishment of justice in Albania in general.
You can find the article published by Standard here.

–