By Gjergj Erebara / BIRN
Repeatedly, the government has banned various things. And repeatedly, no one has felt what the government has banned. The moratorium on forests will likely suffer the same fate.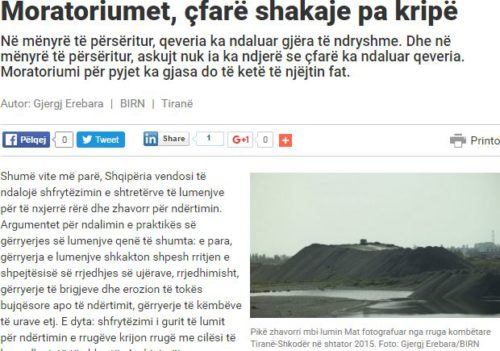 Many years ago, Albania decided to stop using riverbeds to extract sand and gravel for construction. The arguments for stopping the practice of river erosion were many: first, the erosion of rivers often causes an increase in the speed of water flow, consequently, erosion of banks and erosion of agricultural or construction land, erosion of bridge legs, etc.
Second: the use of river rock for road construction creates roads of poor quality and short life. Engineers argued that smooth river stones did not have the necessary coefficient of friction to create long-lived roads. Third: Albania does not suffer from a lack of mountain stones as a construction resource. The only difference is that river stones are slightly cheaper than mountain stones. Fourth: river erosion destroys natural habitats and wildlife.
Many, many years ago, the Albanian government decided to stop the use of riverbeds to extract gravel. The ban, of course, remained only on paper. With dozens of denunciations in the media, especially about the use of the Erzen River near Tirana, they helped to occasionally put the gears rusted by the corruption of the Albanian state to work, but in general, the use of the rivers was stopped only when the gravel ran out. In those cases where the gravel has not run out, exploitation continues, despite it being officially illegal. And it is so widespread that it follows the day for the sun, next to all the national roads from where it is seen by everyone.
It is therefore not difficult to cross the bridge over the Mat river on the Tirana-Shkodër road to see the large mountains of gravel that is taken out of this river. And if you go a little further, to the Bahçalek bridge near Shkodra, the use of the river is also evident there.
The full article published by Reporter.al can be found here.