"We will transform the valley of Vjosa into a national park to prevent barbarization by hydropower plants and to develop tourism, economy, agriculture, to strengthen the family economy by increasing the number of visitors to this large park of Vjosa."
This was the promise of Prime Minister Rama during an electoral rally in Tepelena, in June 2015, as he sought the citizens' vote for the socialist municipal candidates.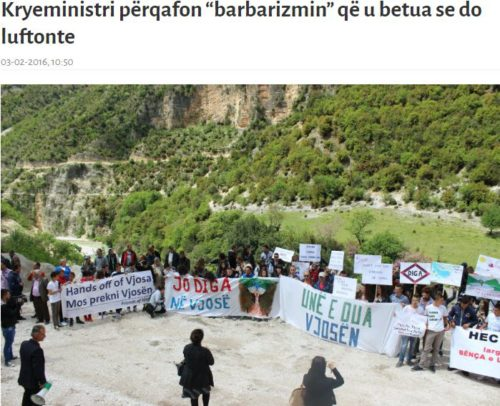 On July 29, 2015, the Council of Ministers approved the acceptance of an unsolicited request from a Turkish firm and tasked the Ministry of Economy with organizing the tender for the concession construction of the Pocem over Vjos hydropower plant.
Mr. Rama and the government have decided to ignore public objections. At the beginning of February, the Public Procurement Agency announced the competition for the construction of the Pocem hydropower plant with a 35-year concession.
A few lines long notice published on the website of the Public Procurement Agency on February 1, the Ministry of Energy announced the opening of the tender for the concession of the "Pocem" hydropower plant, announcing that interested parties have until March 17 this year to submit their bids. According to APP's announcement, the Pocem hydropower plant will be at the maximum quota of 70 meters above sea level, while the government has not published any other technical data to date.
For the full article, click on Exit.al, Reporter.al and Shqiptarja.com