The European Parliament has criticized the Albanian government's plans to build hydropower plants on the Vjosë river and has called on the official Tirana to consider the proposal to turn the valley into a national park.
In point 23 of the resolution of the Enlargement Commission, which was approved in Brussels on Thursday, the European Parliament calls on the Albanian government to "control the development of hydropower plants in environmentally sensitive areas such as the Vjosa River as well as in protected areas to preserve the integrity of existing national parks."
The resolution of the European Parliament comes after the request made by the European Commission in the progress report of 2015, where the Albanian government is also requested to review the plans for the construction of HPPs on the Vjosë river.
"This positioning of the European Parliament supports our work in Albania. However, it is important that the Albanian government does not ignore these requests," says Ulrich Eichelmann, coordinator of the "Save the blue heart of Europe" campaign.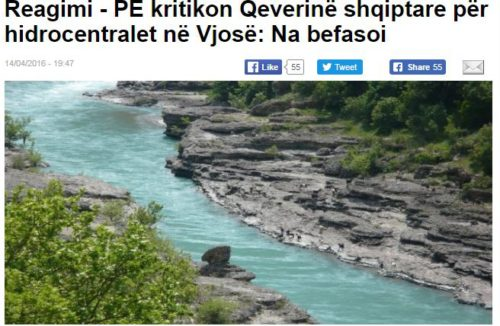 "Instead of the planned hydropower plants, we demand the declaration of the entire Vjosa as a national park, thus declaring the first Wild River Park in Europe," he added.
The Vjosa is the last wild river in Europe excluding Russia. From its source in the Pindis Mountains in Greece to its mouth in the Adriatic Sea it flows free and untouched. In some areas the river bed reaches more than 2 km in width. Scientifically, this river is almost unexplored.
"The messages of the European Parliament's latest resolution regarding the Vjosa River repeatedly show that international concern is growing," says Olsi Nika, Director of EcoAlbania.
"Vjosa is not only a natural asset of Albania but a treasure in the natural heritage of the European family where we intend to integrate," he added.
However, contrary to these requests, the Albanian government has opened on March 17 the tender for the construction of the Pocem hydropower plant, which ended with only one interested company, despite the fact that the government advertised the tender in several international media.
The government's decision to build the Pocem hydropower plant contradicts the commitments made by Prime Minister Edi Rama during the electoral campaign for the local elections in June 2015, when he promised that no more hydropower plants would be built in Vjosa and that its valley would return to protected area.
"The opening of the tender for the construction of a new hydropower plant in Vjosa surprised us, since Prime Minister Rama had also suggested the protection of this unique river," says Gabriel Schëaderer, director of the Foundation for Nature Conservation, EuroNaur.
"Furthermore, no in-depth study has been done according to internationally recognized standards regarding the impact this project would have on nature," he added.
The press release was published by BIRN, OraNews, JavaNews and Tema.