Divjakë, date 28 May 2017. National and international environmental organizations call on the Albanian government not to allow the urbanization of the "Divjakë-Karavasta" National Park and to guarantee the protection it deserves according to the Law of Protected Areas and International Conventions ratified by our country .
The announcement of the Mabetex company's plans to build a new urban center in the Divjakë-Karavasta National Park has worried many organizations focused on the protection of nature, which have raised their voice against this destructive plan for the most important wetlands in the Adriatic Sea.
The "Divjakë-Karavasta" National Park has been declared a protected territory since 1964. Today it covers an area of more than 22,200 ha and protects a unique ecosystem consisting of lagoons, sand dunes, coastal forests with very diverse flora and fauna. rich In this ecosystem there are pine forests over 400 years old, it is a resting area for millions of migratory birds and it is the only nesting place of the Black Pelican, the symbol of the National Park and of nature in Albania.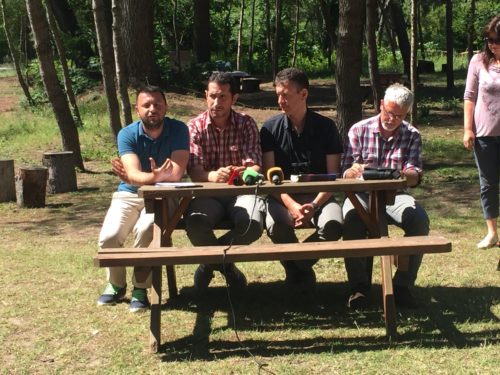 "Due to its rich biodiversity, the Divjakë-Karavasta National Park was declared in 1995 as the First Ramsar Zone in Albania. In addition, the area is listed as a Candidate for the Emerald Network by the Berne Convention and at the same time a pilot area for the Natura 2000 network within the framework of Albania's membership in the European Union. A decision to build an urban center in the heart of the National Park would mean the end of the protected area," said Gabriel Schwaderer, from the German Foundation for Nature Conservation, EuroNatur.
The Mabetex construction project and its associated infrastructure affect the entire Park even though the construction area covers 1170 ha. It anticipates hosting 18,000 visitors per day, 6- to 20-story buildings along more than 12 km of coastline, 2,400 apartments, 370 villas and hotels with 4,300 beds. "The planned resort in PK Divjakë-Karavasta contradicts not only the laws for the protection of nature but also does not guarantee the sustainable development of the area. We believe that mass tourism, especially in this National Park, is not Albania's strongest point. In order to be competitive with its neighbors, Albania must be oriented towards eco-tourism. The construction of this new city would leave the city of Divjaka itself in oblivion and would bankrupt newly born businesses in the area", said Olsi Nika, Executive Director of EcoAlbania.
Turning the Park into a giant construction site for over 15 years and turning it into a big and noisy city will lead to the irreversible alienation of the ecosystem and the loss of all living things. "We are completely against this proposed model and we will continue our efforts with all democratic, legal, national and international means, in order not to allow a wrong and dangerous decision-making for all Protected Areas in Albania", said Taulant Bino , Executive Director of AOS.
The national nature conservation NGOs AOS, EcoAlbania and PPNEA, together with the international NGO EuroNatur, strongly oppose the urbanization plans of the Mabetex group and call on the Albanian Government and the relevant Ministry of the Environment not to allow the destruction of the Divjakë National Park- tie