Born and raised in Norway, Saether is the reigning extreme kayak world champion, holding numerous victories from freestyle to canoe competitions. She is passionate about nature and puts it before books, which is surprising considering her 9-year university degree in History, Spanish, English and Norwegian. She is determined to oppose hydropower projects in Norway and beyond, helping the Norwegian Rowing Federation to fight against the dangers to rivers in her native country. Mariann lives in Voss, Norway and Futaleufu in Chile.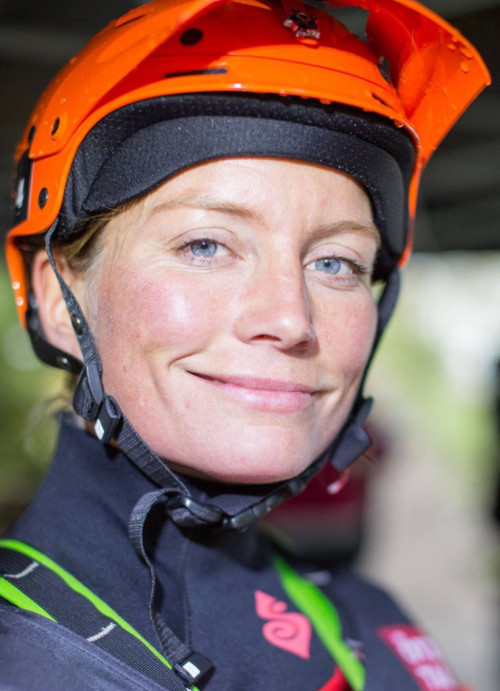 As the world is swept up in the vortex of green energy, water is under constant threat. For example, in my country in Norway, the waters are "cursed" – this is after the decision was made that in the fall of 2016, the giant river Otta, which originates from the Jotunheimen National Park, will be finally destroyed. This is the largest project of modern times, which involves placing water inside a 60-meter-diameter tunnel and passing it through the mountain for 7 kilometers more. Some may call it an ideal technique to "satiate" Europe's needs for more green energy – I call it reckless violence of a pristine nature that will destroy not only numerous ecosystems, but also natural beauty of the valley. The River Otta is the river of my country and I am sad to have to let it go.
Over the years I have been involved in many projects where we have protested against the construction of many hydropower plants in Norway. We have had few victories, but mostly we have been rejected. This is because we Kayakists are not positioned high on the political lists. Therefore we must focus on the values of these rivers, apart from the fact that we like to practice the sport of kayaking in them. For example, I have helped raise awareness of the consequences of the Isimba dam on the White Nile in Uganda, which would be a real disaster for the local community, wildlife and consequently the climate. It is now a fact that the Mega Dam reserves have created more carbon dioxide emissions than originally thought. And now we not only have to oppose the creation of these large dams, but we also have to fight the idea that hydropower is green energy. Yes, it's green compared to coal and gas – but is it green compared to solar, wave, tidal, geothermal, and beyond? This is the real question that should wake us up – this is the question that should make us stand up.
The Balkan River Tour is a significant contribution to changing the outlook for hydropower around the world – with more than 2,700 new dams planned to be built in Slovenia, Croatia, Bosnia, Montenegro, Macedonia, Serbia and Albania. , the threat to fragile ecosystems and the rivers with them is real. Help support this cause by joining this tour which will stop in 6 countries, 18 rivers and organize 11 main activities.
We invite you to share the message with your friends – it's time to stop the hydro-power craze that has taken over modern times. No more time to wait…
—
The Balkan River Tour is a joint activity of Leeway Collective, EuroNatur, Riverwatch, and WWF, organized within the "Save the Blue Heart of Europe" campaign. Without taking into account protected areas, endangered species or local communities, around 2,700 hydroelectric dams are planned to be built between Slovenia and Albania. With this campaign, we want to stop the tsunami of dam building.
Find out more here: http://www.balkanrivers.net/ and http://www.balkanriverstour.com/