++12 recommendations for the Albanian government regarding plans for the construction of HPPs in the Vjosa valley++
Tirana, 24.10.2018. The Permanent Commission of the Berne Convention has published the draft with 12 recommendations for the Albanian government regarding the plans for the construction of hydropower plants on the Vjosë River. It recommends the Albanian government to suspend the projects for the construction of the Kalivac and Pocem hydropower plants in Vjosa, as their implementation would go against the principles of the Berne Convention and asks it to make a strategic planning and undertake further evaluations.
The Bern Convention is one of the most important conventions of nature conservation and biodiversity protection in Europe, which Albania has ratified. Its recommendations would be binding on the Albanian government, leading to the cancellation of HPPs in the entire Vjosa valley.
"Two years ago we addressed a complaint to the Berne Convention, arguing that the construction of HPPs in Vjosa is in violation of some of its articles. And today, after a continuous commitment, the Convention Bureau comes with a report and a series of recommendations which the Albanian government has the obligation to take into consideration". said Olsi Nika, representative of EcoAlbania.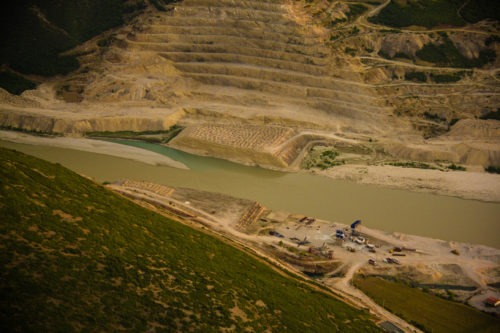 In its recommendations, the Convention emphasizes the drafting of the Vjosa Basin Integrated Management Plan and Strategic Environmental Assessment by undertaking extensive community consultations. At the same time, it recommends the government to develop a study on the potential impacts of the Kalivaç and Poçem HPPs on the sediment flow of the Vjosa River, as well as to repeat the Environmental Impact Assessment study for the Poçem HPP.
These recommendations will be discussed by the Permanent Commission at its 38th meeting in Strasbourg, which will be held on November 27-30, 2018, to pave the way for the opening of the Vjosa case in the Berne Convention.
Currently, the Albanian government has signed the concession contract for the Kalivaç hydropower plant with the temporary merger of the companies "Fusha Sh.p.k" and "Ayen Enerji". The latter was previously granted the concession for the construction of the Poçem hydropower project, whose works have stopped, after the concession contract was declared invalid by the Administrative Court of the First Instance, Tirana. Both hydropower plants are planned in the lower part of the Vjosa and would destroy a particularly important part of the river.