Amid the applause of hundreds of spectators and protesters from the Vjosa valley, mainly from the areas directly affected by the construction of the Poçem hydropower plant, kayakers from Albania, Slovenia, Greece, Italy, Germany, Austria, the Netherlands and the USA marched with their kayaks in the middle of the capital.
One of them was Rok Rozman – initiator of the River Tour and former Olympic athlete from Slovenia. Their destination was the office of the Prime Minister of Albania, Edi Rama, to deliver a special Kayak to the Prime Minister.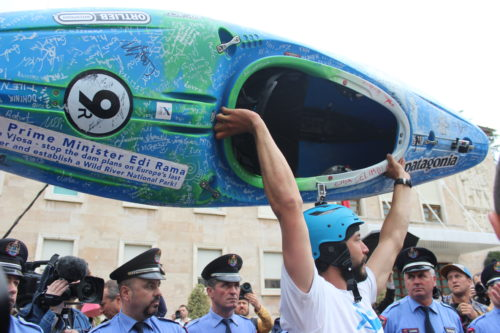 "Dear Edi Rama – stop the damming efforts in Vjosa and create a National Park for the last wild river of Europe" – was written on the kayak signed by more than 1,000 people.
However, neither Edi Rama nor government representatives were ready to receive the petition. The police completely blocked the entrance. Rok Rozman put the kayak in front of the police cordon.
The article prepared by Gazeta Tema can be found here.