++About 200 people watched the film "Blue Heart" this Sunday in Tirana – The film also travels to the communities of the Vjosa Valley.++
Tirana, May 7, 2018. The movie "Blue Heart" was shown last night in Tirana for the Albanian public, at the Millennium Cinema. The premiere of Albania brought together about 200 people, citizens of Tirana, visitors from other cities, friends of Vjosa, representatives of state authorities, Albanian and international civil society organizations, professors and students, etc.
The film by the prestigious Californian sportswear company Patagonia, made by the Farm League, shows the ongoing efforts of local communities and activists in the Balkans to protect their rivers from the massive development of hydropower projects with about 3,000 HPP planned to be built in the whole peninsula. During 40 minutes, the stories of Albania, Macedonia and Bosnia-Herzegovina are documented in support of the campaign for the protection of the rivers of the Balkans, "Saving the Blue Heart of Europe". The history of Vjosa's defense is that of the struggle of the residents of Kuta in Mallakastër, the organizations of Albanian activists and the successful legal battle against the construction of the Pocem hydropower plant.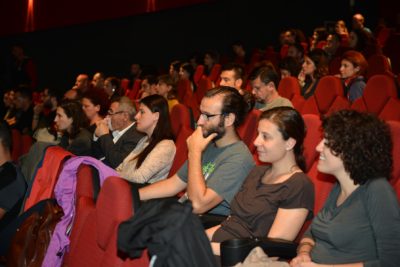 The film will travel the following week to the valley of Vjosa, where it will also be shown to the communities affected by the HEC projects foreseen in Vjosa. His show will be powered by solar energy from the Croatian company Via Solis. The bus with solar panels of Via Solis will travel to show the film in Kuta (May 7), Përmet (May 8), Tepelena (May 9), Qesarat (Memaliaj/ (May 11), Selenica (May 12), as well as in Shkodër (May 14).
"Blue Heart" has been translated into 14 languages and will be shown in over 500 countries around the world. Patagonia, already with its own campaign in defense of the "Blue Heart of Europe", has also initiated a petition calling on international banks not to finance hydropower projects in the Balkans. Over 100,000 people have signed the petition so far.
Information:
This is a press release of Riverwatch, Euronatur and EcoAlbania.
More information about the film on the site "The dam truth"
The film "Blue Heart" supports the "Save the Blue Heart of Europe" campaign, which aims to protect the rivers of the Balkans from the 3,000 planned HPP projects. The campaign is coordinated by Riverwatch and Euronatur in cooperation with partner organizations in the Balkans. The local partner for Albania is EcoAlbania.
For more information contact:
Olsi Nika, EcoAlbania
[email protected], +355 69 294 4757
Cornelia Wieser, Riverwatch
[email protected], +43 650 4544784
Theresa Schiller, EuroNatur
[email protected]; +49 7732 927212