By Ermelinda Hoxhaj
Tirana: I came only for an 11-day visit, to see the beauties of the Valbona National Park, but I decided to stay for the rest of my life. Chatherine Bohne, arrived in Albania for the first time in July 2009, but today after 7 years, she is one of the strongest voices in defense of Valbona National Park.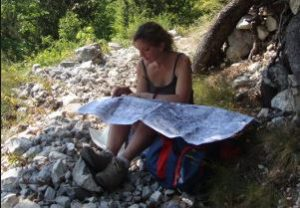 "After seeing these beauties of the Valbona Valley, I was fascinated. This is paradise, I said when I saw it for the first time, in July 2009, and again today after 7 years, I say that this is the Paradise of Albania and Europe, so we must fight for it. My husband and I, but also the whole community here in Valbona are fighting to protect the Park from the 14 HPPs that are planned to be built. 9 of which are planned to be built in the territory of the Protected Area of the Park", – said Chatherine Bhone for "GSH".
According to her, the community of Valbona has protested against the construction of hydropower plants in the river of Valbona, but on the other hand, it is following step by step, it is also following the legal procedures to stop this massacre.
The association led by her husband, Alfred Selimaj, has sent an official request to the National Environment Agency for the suspension of all works, pending a review of the documentation for all construction licenses in the lagoon, and a national reassessment as to pertains to the issue of HPP construction in protected areas. Such constructions contradict the direct criticisms expressed by the EU in the 2015 report, but this was reconfirmed with even harsher tones in the Resolution approved yesterday by the European Parliament. Where he asks the Albanian government to prioritize the protected areas and control the hydropower plants that are planned to be built in their territory.
You can find the full article published by BalkanWeb here.