A group of artists from Albania and Kosovo, including Eda Zarin, Elina Dunin, Gent Rushin, Arbent Xhaferin, the group Jericho, etc., will sing to protest in defense of Valbona and against the import of garbage in Valbona and Tirana this weekend.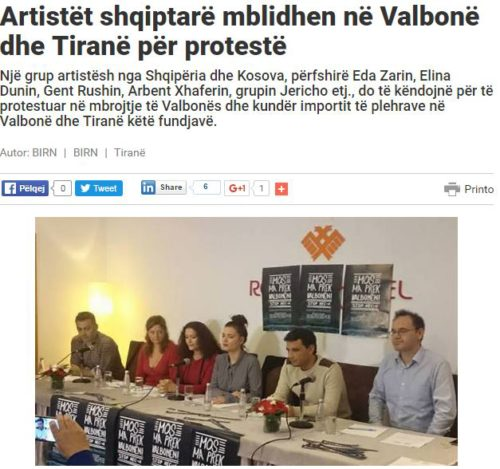 The two Albanian singers who live in Germany and Switzerland, Eda Zari and Elina Duni, held an unusual media conference on Thursday, October 27 in Tirana, where they announced their civic engagement in protecting the Valbona River from hydropower plants and against the import of garbage in Albania alongside the activists of the Alliance Against Garbage Import and the residents of the Valbona valley.
"This is an initiative that seeks to bring the message, not to HEC in Valbona, leave the river free and against the import of waste in Albania," said the artist Eda Zari. "This is an initiative without borders or political coloring, it is an artistic marathon that supports, sensitizes and brings civil courage," she added.
"There is talk of imprisoning this river, there is talk of this garbage coming to Albania. Organizations have asked many questions about this issue but have not received answers," added Eda Zari.
"We get our inspiration from nature, every song is about nature," said singer Elina Duni, who lives in Switzerland and gives concerts all over Europe, but decided to join Zari and other artists to sing in two the protests planned for Saturday and Sunday in Valbona and Tirana.
The Albanian government has approved the construction of 14 hydropower plants on the Valbona river with procedures, which, according to activists, carry countless legal violations. I want to tell them to come, but I can hardly tell them if they see the construction of hydropower plants there and not nature," said Duni.
The news was published by Reporter.al, OraNews, NewsDesk and Mapo.al