In a letter sent to the Prime Minister of Albania Edi Rama and the Minister of Energy Damjan Gjiknuri, German and Austrian experts state that the environmental assessment of the Poçem project is a farce.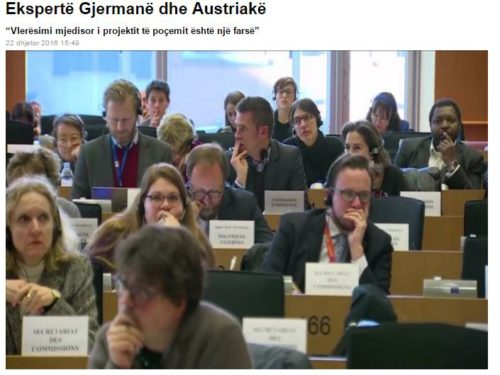 "The assessment of the environmental impact of the Pocem hydropower project on the Vjosa river is a farce" This is how German and Austrian experts from the University of Leipzig and Vienna express themselves in a letter sent to Prime Minister Edi Rama, Minister of Energy Damian Gjiknuri and Minister of Environment Lefter Head on the environmental assessment of the Pocem project.
According to European scientists, this assessment does not meet the minimum requirements for predicting the environmental impact of the projected hydropower plant, since no surveys were made for flora and fauna, no data were collected for rare species, no hydrological, morphological and ecological processes were evaluated and the possible long-term effects of the project, as well as 60% of the assessment text is simply a copy of the previous document and partially refers to completely different geographical areas.
For the protection of the Vjosa River, the MEP Igor Soltes has also insisted on including it in a special amendment to Knut Fleckestein's resolution, which is expected to be approved in the first half of 2017.
"44 out of 71% of hydropower projects in Albania are being built in protected areas. We have received many letters from experts and civil society expressing concerns about the project on the Vjosa river, which is the last wild river in Europe. This is really a scandal and we must tell the Albanian government to stop the many uncontrolled projects, reconsider them and respect the standards of the European Union, as they are not in accordance with the European directives for the protection of the environment"
In the letter addressed to the Albanian government, Professor Martin Pusch of the Leibniz Institute states that the assessment made does not even deserve to be called such, since it does not allow a reliable prediction of the impact on biodiversity, the conditions of underground water, as well as the current consequences for the residents. According to him, the biological impacts of a dam are addressed in only 10 lines, without mentioning a single fish species.
Prof. Friedrich Schiemer from the University of Vienna, writes that for a river of such international importance the highest possible legal standards should be applied and that the conclusions of the environmental assessment of the Počem project are not based on comprehensible data and therefore not meet international standards, making the assessment more of a caricature than a frivolous basis for decision.
Article from ABC News 24.