The municipalities in the south of Albania have united to oppose the plans of the Albanian government for the construction of Hydropower plants in the "Vjosa" River Valley.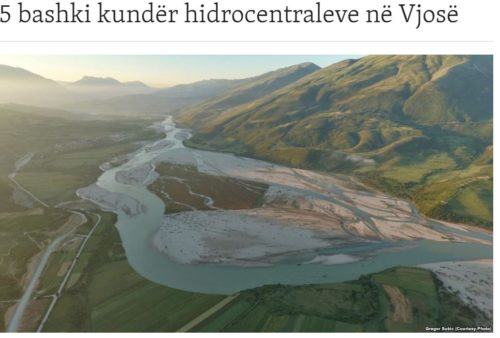 Through an open letter addressed to the Prime Minister Edi Rama and the Speaker of the Parliament Ilir Meta, the 5 Municipalities of Përmet, Tepelën, Memaliaj, Mallakastër and Selenicëkan expressed the concern of the communities they represent and ask the central government "to rethink the plans of HPPs in the river Vjosa and its tributaries".
"Initiatives should also be taken to suspend the concession contracts and to guarantee community participation in decision-making", says the response of the leaders of the five municipalities addressed to the Albanian government.
The letter of the leaders of the Municipalities also assesses that the Albanian Government should ask the Greek authorities for transparency regarding the interstate agreements on rivers. This request is related to the Greek plans to divert large amounts of water from the flow of the "Vjosa" River on the Greek side, towards Lake Ioannina.
The letter of the leaders of the Municipalities comes after a Resolution of the European Parliament for Albania, which expressed concern about the energy policy followed by the Albanian government for the construction of hydropower plants. "The assessment of the environmental impact of hydropower plants is often not done properly and in accordance with European standards and EU legislation", the Resolution states.
"The Albanian government is advised to consider the creation of the Vjosa National Park along its entire length and to abandon the plans for the construction of new hydropower plants on the Vjosa River and its tributaries," the Resolution further states. The Vjosa River is seen by environmental organizations, researchers and environmental specialists as one of the last wild rivers in Europe.
In November of last year, the Ministry of Energy announced the granting of permission for the construction of the Pocem hydropower plant and the signing of the contract with a Turkish company, while the case is being handled in the Administrative Court of Tirana following a lawsuit filed by the community of residents and environmental organizations. .
Article from the Voice of America and Reporter.al/BIRN