++ 2800 planned HPPs, 187 under construction and more than 1000 inside Protected Areas++
Vienna, Radolfzell, Tirana 30.11.2017. A new data set makes the extent of the threat to the Blue Heart of Europe visible: the dam tsunami has started to roll. Currently, between Slovenia and Greece, about 2,800 hydropower plants are being planned, 187 are under construction, more than 1,000 of those (or 37%) inside protected areas (118 in national parks, 547 in Natura 2000 areas, the rest inside high level national categories). Since 2015 about 160 – 180 hydropower plants have been constructed in that region.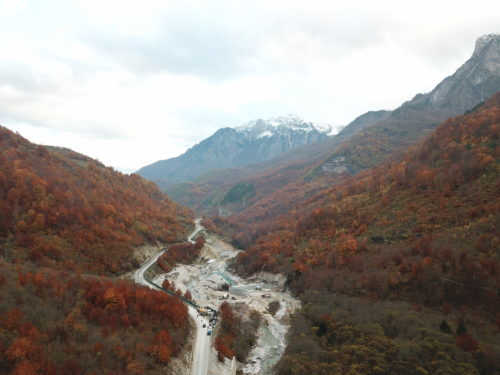 Within the campaign "Save the Blue Heart of Europe" we regularly assess the hydropower development in the Balkans. Since the last update in 2015, the speed of river destruction has increased. The assessment was prepared by Fluvius."These numbers visualize the dimension of the problem. This dam tsunami is threatening Europe´s Blue Heart. Without respect to nature, endangered species, protected areas and people, rivers are being destroyed, their water diverted and whole landscapes are drying up," says Ulrich Eichelmann, CEO of Riverwatch.
Gabriel Schwaderer, CEO of EuroNatur adds: "The main drivers for this wave of hydropower-tsunami are corruption, the superficiality of many international financial institutions and misconceived climate protection. This has to be stopped, otherwise the Blue Heart of Europe will have a heart attack."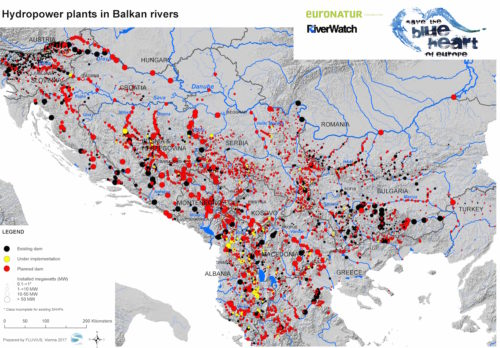 The study shows that Albania is on top of the list regarding the hydropower construction, while we are almost 100% depending on hydro energy only. The construction of new HPPs would not increase the energy security as long as there is no investment in the diversification of energy sources. This approach in fact is destroying the natural values that Albania has as an asset for the sustainable development through tourism", highlights Olsi Nika, Executive Director of EcoAlbania.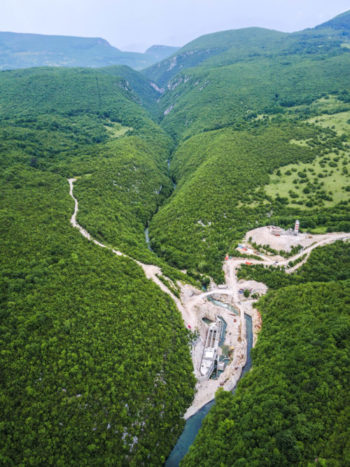 Comparing the latest update with our 2015 data shows that:
the speed of construction of new hydropower plants is increasing. Currently, 187 projects are under construction, while in 2015 there were only 61.
hotspots of ongoing river destruction are Albania (81 projects under construction), Serbia (30), Macedonia (22) and Bosnia and Herzegovina (19).
in the past 2 years, approximately 160-180 plants have been completed.
91% of those under construction are projects with a planned installed capacity below 10 megawatts (MW) for which no Environmental Impact Assessment is required.
Further details and graphs of the report can be found here.
General information:
The Save the Blue Heart of Europe" campaign is a joint initiative of the NGOs EuroNatur and Riverwatch. Together with partner organisations in the Balkan countries such as EcoAlbania, in Albania we fight against thousands of hydropower projects on the Balkans to protect Europe´s best river network