++Civil society positioning statement on the alternative of developing the small HPP sector in harmony with nature++
Civil society environmental organizations express their concern regarding the problematic situation created as a result of the construction of small HPPs without criteria in the water courses of the rivers. This situation is best evidenced with all the legal, institutional, socio-economic and ecological impacts, from the study "Environmental alternative of small HPPs in Albania", an alternative study brought for the first time by environmental civil society in Albania, as well as from the study "Quality of EIA/EIA reports of projects for HPPs in Albania" that highlights the shortcomings and deviations in the legislation of EIA/EIA drafting.
In the last decade, the use of water resources for energy production from HPPs (especially small ones) has grown rapidly in Albania as in all the countries of the region. Although this is classified as a renewable energy source, a staggering number of 501 HPPs are expected to negatively impact natural ecosystems and especially those with high sensitivity (protected areas and national parks).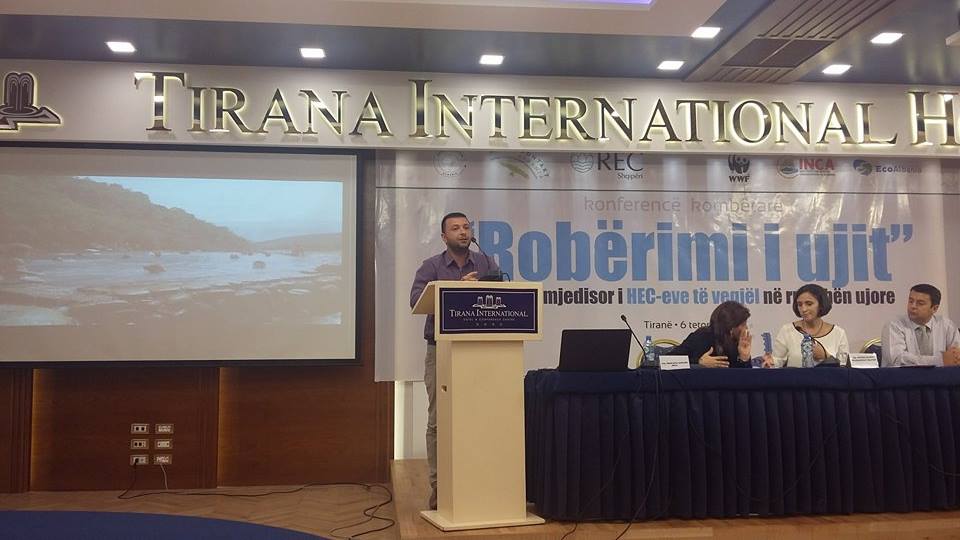 Environmental organizations support the development of society on the principles of sustainability, environmental equity and justice. They constantly advocate for strategic planning of hydropower development, based on a comprehensive social, economic and environmental assessment of the need for the construction of hydropower plants, which should also consider other uses of water, such as drinking water, for irrigation, and ecosystem services.
At the same time, these plans must take into consideration the potential that rivers offer for the touristic and socio-economic development of areas with rare values, such as Vjosa- the last natural river which still flows freely from the source to the estuary, creating a unique ecosystem not found in Europe. Organizations together with the affected communities are engaged today, more than ever, in the protection of values of European importance such as the Vjosa river and its tributaries.
In order to realize protection and management with pro-environmental criteria and pro-sustainable development, environmental organizations present a series of recommendations at the level of strategic and technical policies, which are expected to establish a fair balance in this sector.
Taking into account the importance of the issue, publicly accepted by the Prime Minister of the country, Mr. Edi Rama, at the Conference of July 28, 2015 "Development of natural resources in harmony with the environment" and especially in the absence of a clear development framework from the state side for this sector, We request today the first and immediate measure for a Moratorium related to the construction of energy works in the rivers of Albania for a period of 3 years.