The group "To protect the rivers", composed of local and international non-governmental organizations active in the field of environmental protection and nature conservation, and civil society activists protested today against the government's plans for the construction of hydropower plants in the rivers of Albania.
At this delicate moment, when civil society has constantly sought attention to stop this destructive process on rivers and water resources and make it transparent on the part of the government, the "Hydrotech Albania" Conference takes place in Tirana, a meeting that invites foreign investors from use the country's natural water resources for energy production.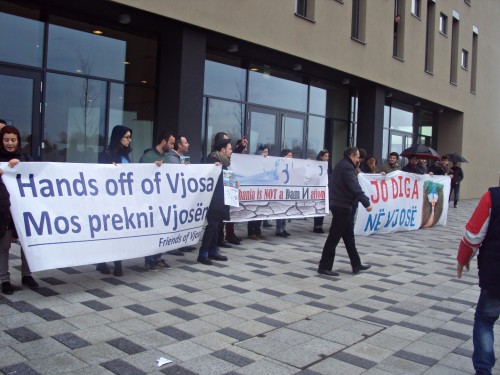 The group has made it known from time to time through press conferences, protests and the national conference, as well as argumentative letters on the negative impacts of the construction of HPPs on the Albanian rivers, requesting a Moratorium on the construction of HPPs on the rivers of Albania for a period of 3 years. This moratorium will serve as a refractory period for analyzing the current situation, improving the legal framework and building a Master Plan for the construction of HPPs in accordance with national development strategies.
Of the 436 concessions for HECs granted until 2014, 248 of them have not yet started work or there is no information on finding funds for the implementation of projects for HECs and based on the concessions law (Article 36, point 1) licenses for these concessions may be reviewed, or may be cancelled.
The group has argued that the decisions of the previous and current government to invest in the renewable energy sector, especially the construction of hydropower plants, based on requests without studies and without strategic and scientific assessments, is short-sighted, anachronistic and sustainable. short term. These decisions do not take into account the global economic importance of renewable energy sources and policies to use natural resources sustainably while preserving nature and its values, bringing innovation, new jobs and economic sustainability.
Moreover, this choice does not take into account the negative impacts on the economic sectors that live and develop through the use of rivers such as tourism, agriculture and fishing. We consider these activities healthy for our territory and a real market for sustainable economies that deserve encouragement and support from our government and foreign investors.
On February 1, the procedure for awarding a 35-year concession for the construction of the Pocem hydropower plant in the lower reaches of the Vjosa River was opened. The construction of the HPP in Počem would end the vision for the first National Park of a wild river in Europe and would undermine the economic development and the future of the entire Vjosa valley.
In the interest of the community it represents, the group wants to stop the massacre that is being done with the rivers by over-exploiting and alienating them as the most precious treasure of our country and specifically wants:
Stopping the process of granting licenses for HPPs until the process is improved from the legislative and institutional side;
Carrying out an extensive study on the water capacities of the country and the ability of these capacities to build HPPs and meet the requirements for energy produced by hydropower;
The adoption of the moratorium law for the prohibition of the construction of HPPs for a period of three years in order to create the opportunity to improve the legal framework and to complete the procedures and institutions responsible for granting licenses within well-defined criteria and fair evaluation of the impacts on their environment;
The inspection of all licenses granted for the validity of the project implementation periods and the punishment of those investors who have not implemented and fulfilled the requirements for construction, rehabilitation of the territory as well as respect for the amount of ecological flow determined in the construction projects HPPs;
Promotion of alternative energy production projects from renewable sources of solar and wind energy;
Respecting the management of protected areas within the criteria for preserving the wild nature of flora, fauna and habitats